This post is also available in:

Deutsch
Are you looking for an easy and delicious recipe for homemade gnocchi? Great, I got you covered! These gnocchi are tender on the inside yet are slightly firm when you bite into them.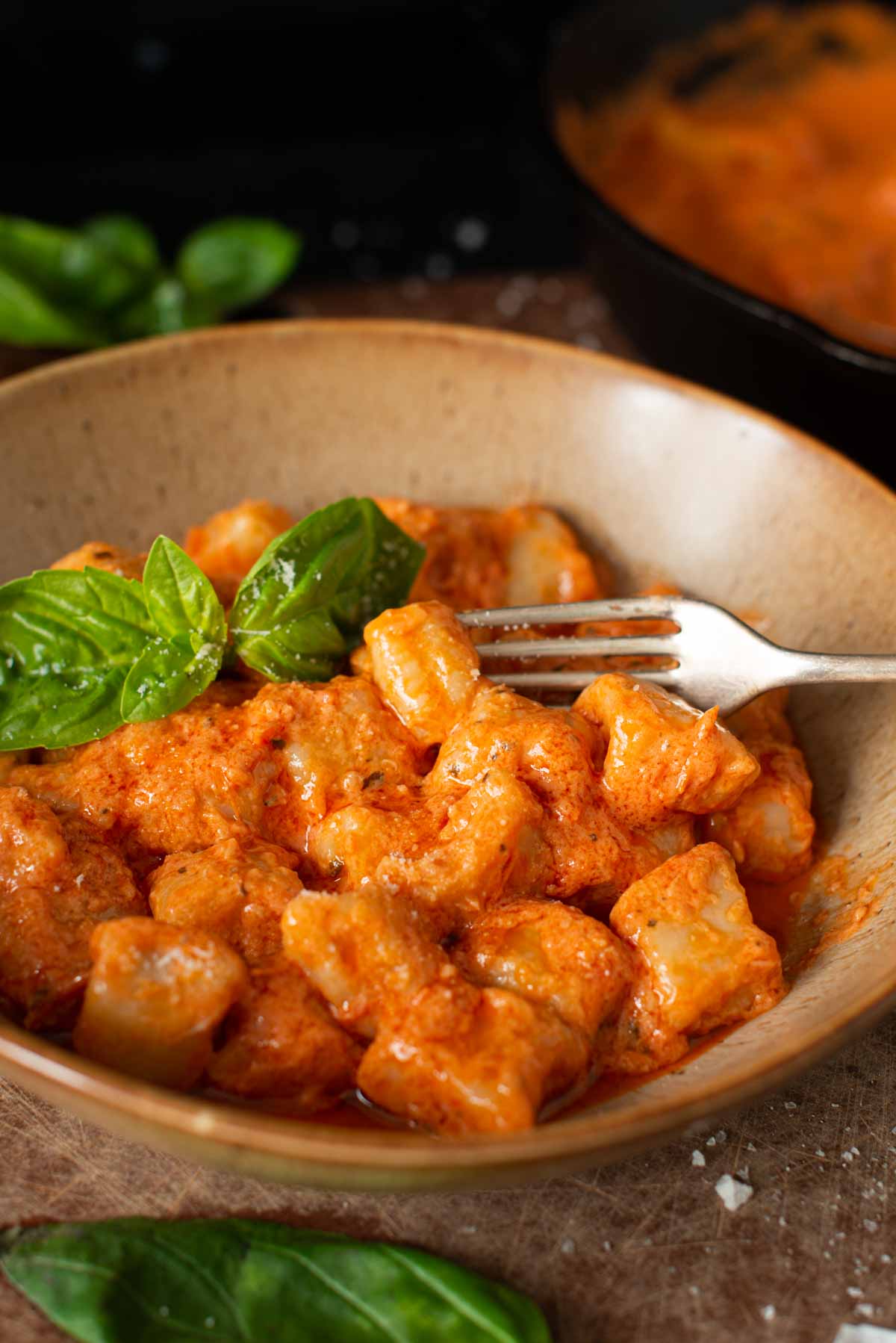 These gnocchi are served with a delicious tomato-basil sauce made with ripe datterino tomatoes, fresh basil, olive oil and plant based sour cream. The result is an absolutely delicious dish that will delight everyone!
What's more, the beauty of this recipe is that it only requires 7 ingredients and about 45 minutes of active cooking! So if you're looking for a quick and easy dish to prepare, you've come to the right place!
Before you jump into the kitchen to make this gnocchi with tomato sauce, I recommend you read the blog post carefully. The recipe is simple, but there are a few important steps you need to follow carefully.
Jump to:
Ingredients
To make this delicious vegan gnocchi with tomato sauce you only need the following 7 ingredients:
all-purpose flour
floury or all-purpose potatoes
plant-based sour cream (e.g. Beleaf)
olive oil
salt
basil
Which potatoes to use for gnocchi?
When choosing potatoes for gnocchi, the most important thing is to use old potatoes.
They are rich in starch and contain less water, therefore they are perfect for this recipe. New potatoes are not recommended, because they are watery and give moisture to the flour.
Cooking potatoes properly
Once we have selected the right potatoes, we can cook them. One of the most popular methods is to cook them whole and unpeeled in boiling water. An equally good alternative is to bake the potatoes in the oven at about 150 °C (300 °F) until tender.
What also works very well is to steam them, in which case the potatoes must always be cooked whole and unpeeled.
On the other hand, it is not advisable to cook already peeled or diced potatoes, because they absorb more water than they should and remain more moist.
The potatoes are too moist, what should I do?
If the potatoes can be easily pierced with a fork, they are cooked.
In case water comes out when you mash them with a potato masher, here's the solution: let them dry in the oven at 100 °C (212 °F) for 10 minutes.
Once you've done all these steps correctly, you're ready to make the dough. Add flour to the mashed potatoes and knead the dough as fast as possible so that the gnocchi don't get too sticky or rubbery when cooking.
How to knead the dough
Mashed potatoes and flour must be mixed and formed into a dough very quickly after mashing. But watch out, don't overmix the dough or the potatoes will give off water and make the dough sticky.
Always remember that the exact ratio for gnocchi with a perfect consistency that melts in your mouth is 1 kg of potatoes to 250/300 g of flour.
So if you over-knead the dough and have to add more flour to fix it, you might end up with gummy gnocchi.
How to form gnocchi
Once you have formed a compact dough, dust a work surface with a little flour and roll out the dough with a rolling pin into a rectangle about 2 cm thick (see picture below), if necessary, also flour the rolling pin.
Cut the dough into strips about 2 cm wide and roll them up with your hands. Then cut the rolls with a sharp knife into pieces about 2 cm long. And voilá the gnocchi are ready!
Drying gnocchi
Let the gnocchi rest on a clean dish towel for about 30 minutes. Thanks to the resting time, they dry out slightly on the surface and keep their shape during and after cooking. This step is necessary because there are no eggs in the dough.
I do not advise cooking the gnocchi immediately after shaping. This could cause the gnocchi to stick together!
On the contrary, if you leave them to dry for too long, an excessive crust may form, the inside will not cook properly and the dough will become dark and hard.
Cooking time
Cooking fresh gnocchi is very simple. Put them in boiling salted water and cook them until they come to the surface. To make sure they are cooked inside, I always recommend you try a gnocco before draining them.
How to freeze
If you have made extra portions of gnocchi and want to freeze them, you can easily do so after they have dried.
The best way to freeze them is to place them on a baking sheet or plate lined with parchment paper and place the gnocchi on it so that they don't touch each other. Then freeze them. Once frozen, you can put them in a freezer bag.
How to cook frozen gnocchi
If you want to cook the frozen gnocchi, just put them in boiling salted water while they are still frozen.
Then cook them for 3-4 minutes or until they come to the surface. To make sure they are cooked inside, I always recommend you try a gnocco before draining them.
More recipes you may like
Leave a comment
If you tried this recipe for homemade gnocchi with tomato sauce let me know! Leave a comment, rate it and don't forget to tag a photo with #carlocao or #vegaliciously on Instagram & Tiktok. Cheers, friends!
Pinterest
If you have Pinterest and you like this recipe for homemade gnocchi, feel free to pin the following picture and to follow me by clicking here 😌
📖 Recipe/Rezept
Vegan Gnocchi Recipe (Without Egg)
Ingredients
1

kg

floury or all-purpose potatoes

((35 oz))

300

g

all-purpose flour

plus more for dusting ((10½ oz))

1

tsp

salt

400

g

datterino tomatoes

((14 oz))

1

handful basil

3-4

tbsp

olive oil

150

g

vegan sour cream

((5⅓ oz))

salt and pepper to taste
Instructions
Wash the potatoes thoroughly and place them in a pot. Cover with water and bring to a boil. Boil the potatoes for about 20 minutes until soft.

Let the potatoes cool down a little. Then peel and mash them with a potato masher.

Add salt and flour a little at a time and quickly knead into a smooth dough.

Dust a clean working surface with flour and roll out the dough with a rolling pin to a rectangle about 2cm (¾ inch) thick, dusting the rolling pin if necessary.

Then cut 2cm (¾ inch) wide strips and roll up with your hands.

Cut 2 cm (¾ inch) long pieces with a knife.

Place gnocchi on a clean kitchen towel and let dry for 30 minutes.

In the meantime, prepare the sauce. Put the tomatoes together with the basil, a pinch of salt and a generous dash of olive oil in a cast iron pan or casserole dish. Bake for 30 minutes at 200 °C (392 °F). Then put cooked tomatoes and sour cream in a blender, puree with salt and pepper and set aside.

Cook gnocchi in boiling salted water until they float to the surface, then drain and serve immediately with the sauce.