This post is also available in:

Deutsch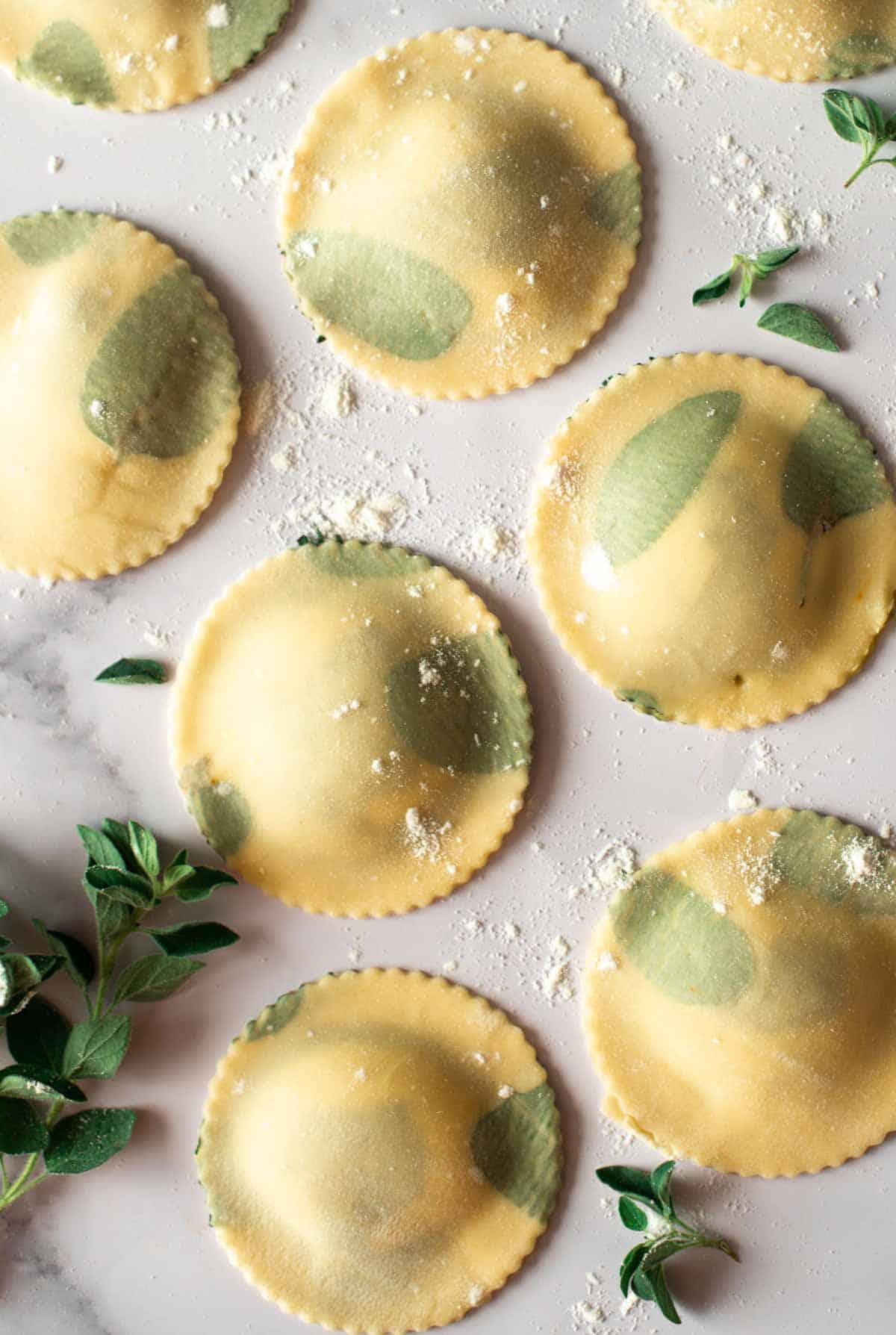 These homemade pesto-cheese ravioli are absolutely DELICIOUS! I've made them lots of times and everyone loves them! They're creamy, delicate and perfect for when you want to cook something easy and tasty.
Making homemade ravioli might sound difficult to some, but trust me when I tell you that these ravioli are simple to make. All you'll need is an hour of time and a few ingredients. Let's make them!
Is ravioli vegan?
Ravioli is not always vegan. In fact, ravioli dough is often made using eggs. Also, the majority of ravioli fillings contain fish, cheese, dairy or meat. Therefore, it is important to read labels well before buying ravioli at the supermarket.
How to make vegan ravioli
Making vegan ravioli is super easy. In fact, all you need to do is make a dough made with water and flour (you'll learn how to make it below) and prepare a plant-based filling.
Ingredients for the cheese & pesto ravioli
You only need a handful of ingredients to make this recipe.
For the filling:
150 g of plant-based cream-cheese
For the dough:
I also added a pinch of saffron to give the ravioli some color but that's optional
How to make homemade ravioli dough
Making vegan ravioli pasta is very easy, just mix 500 g of flour with 250 ml of water until you get a lump-free dough. If you want, you can add a pinch of saffron or kurkuma to the water to give a more vibrant color to the ravioli.
In case the dough is difficult to knead, wrap it with plastic wrap and let it rest 10 minutes in the fridge. Once rested, the dough will be much easier to knead.
Once the dough is ready, divide it into 4 parts and, using a pasta machine or a rolling pin, flatten the dough until you have 4 sheets of dough about 2 mm thick.
Homemade ravioli without pasta machine
Having a pasta machine helps you rolling out the dough faster. That being said, you can also use a rolling pin. The result will be the same.
Laminated dough (optional)
To give these ravioli an extra touch of flavor, I decided to make an oregano laminated dough. To make the laminated dough, simply top one sheet of dough with oregano leaves, cover with a second sheet of dough and flatten the dough until it is 2mm thick.
Toppings
To make these ravioli even more delicious, I recommend serving them with some fried sage, a drizzle of olive oil and some vegan parmesan cheese. This will make the ravioli even more delicious!
How to store homemade ravioli
There are two ways to store (uncooked) ravioli: in the fridge or in the freezer.
In the fridge:
If you want to store the ravioli for a day, just flour them well with semolina flour, lay them on a plate, cover them with a dish towel and set in the fridge.
In the freezer:
Lay the ravioli on a plate covered with parchment paper so they don't touch each other and place in the freezer. Once frozen put them in an airtight freezer bag. You can store the ravioli in the freezer for up to 1-2 months.
More Recipes You Might Like:
If you try this recipe...
If you try this Focaccia (no knead) let me know! Leave a comment, rate it, and don't forget to tag a photo #carlocao or #vegaliciously on Instagram. Cheers, friends!
If you have Pinterest...
Feel free to pin the following picture and to follow me by clicking here 😌
📖 Recipe/Rezept
Homemade Vegan Pesto-Cheese Ravioli
Ingredients
500

g

all-purpose flour

((17½ oz))

250

ml

water

((1 cup))

1

pinch

of saffron

a handful of oregano

150

g

plant-based cream cheese

((5 oz))

100

g

store bought pesto

((3 oz))

1

dash of olive oil

1

handful of sage leaves
Instructions
Dough
On a work surface, make a well with the flour and and add the water. Beat with a fork, incorporating the flour a little at the time, until you see some lumps of dough coming together.

Carry on with your hands, kneading the dough until you have a smooth, elastic ball.

Divide the dough into 4 pieces. Roll them out using a pasta machine or a rolling pin until 2mm thick. (if you don't make the laminated dough skip to 7)

Arrange the oregano leaves across 2 sheets of dough.

Lay the remaining sheets of dough on top of the herbs and press down gently.

Roll out the newly formed sheets until 2 mm thick.

Using a round 7–8cm (3 inches) ravioli cutter, cut out as many circles as you can get.

Add 1 tsp of cream-cheese and one of pesto on half of the circles.

Lightly brush water around the edge of the circles. Place a second circle on top over the filling and use a fork to crimp the edges all around.

Bring a large pot of salted water to a boil. Once hot add in the ravioli and cook until they start to float. Meanwhile add the olive oil to a pan, heat over high heat, add in sage leaves and cook until crispy.

Top the ravioli with sage oil and serve straight away. Buon appetito!