Diesen Beitrag gibt es auch auf:

Deutsch
Focaccia has always been one of my favorite foods. I grew up with this dish and for me there is nothing better than an apéro with focaccia and a glass of good prosecco.
This recipe is super easy and the resting time of the focaccia dough is not too long (unlike other recipes that can take up to 3 days!). In fact, in about 3 hours it'll be ready to serve.
This focaccia is super soft and chewy. It has a delicate flavor and is perfect to serve as an appetizer with some freshly made lemon hummus (the combination is PERFECTION on so many levels, trust me!).
Where Does Focaccia Bread Come From?
The origins of focaccia dates back to Italy. In fact, it was already prepared in Ancient Rome, where it was served in Church or during wedding celebrations.
Is Focaccia Vegan?
Focaccia, made in the traditional way, is vegan. In fact, it is prepared by mixing 5 basic ingredients: flour, salt, yeast, water and olive oil. That said, there are bakers who make it using lard (which makes the dough soft). So it is always good to be careful when buying it in a supermarket.
Focaccia Ingredients
The ingredients to make a traditional focaccia are few and simple. To make the dough you will only need: flour, salt, yeast, olive oil and water.
Focaccia Toppings
I added green olives and onions to my focaccia but you can add any toppings you like. Here you have some of my favorites: tomatoes, capers, squash blossoms, walnuts, pesto, chili, mushrooms... the options are endless.
How To Make Focaccia Dough
Making the dough of this focaccia (no knead) is very easy. First, put all the ingredients in a large bowl and mix everything with a spatula. As soon as you get a dough similar to that in the image below, cover the bowl with a wet cloth and let it rest for 10 minutes.
Then form a ball, no dry streaks should remain in the bowl. Sprinkle the dough with 3 tbsp of olive oil and turn it a couple of times to make sure it's covered with oil (so that it doesn't dry out while resting). Cover the bowl with a wet cloth and allow to rise at room temperature for 90 minutes (or until doubled in size).
Once the focaccia dough has doubled in size, spread it out carefully onto a large ⌀ 23 cm (9 inches) pie form lined with baking paper. Poke it with your fingers, add the toppings (in my case onions and olives) and sprinkle it with a dash of olive oil. Allow it to rise for another 30 minutes. Then sprinkle it with salt flakes and bake it in the oven at 180 °C (340 °F) for 20 minutes.
What To Serve With Focaccia Bread
I normally pair it with hummus and believe me when I tell you it's one of the most requested dishes by friends and family!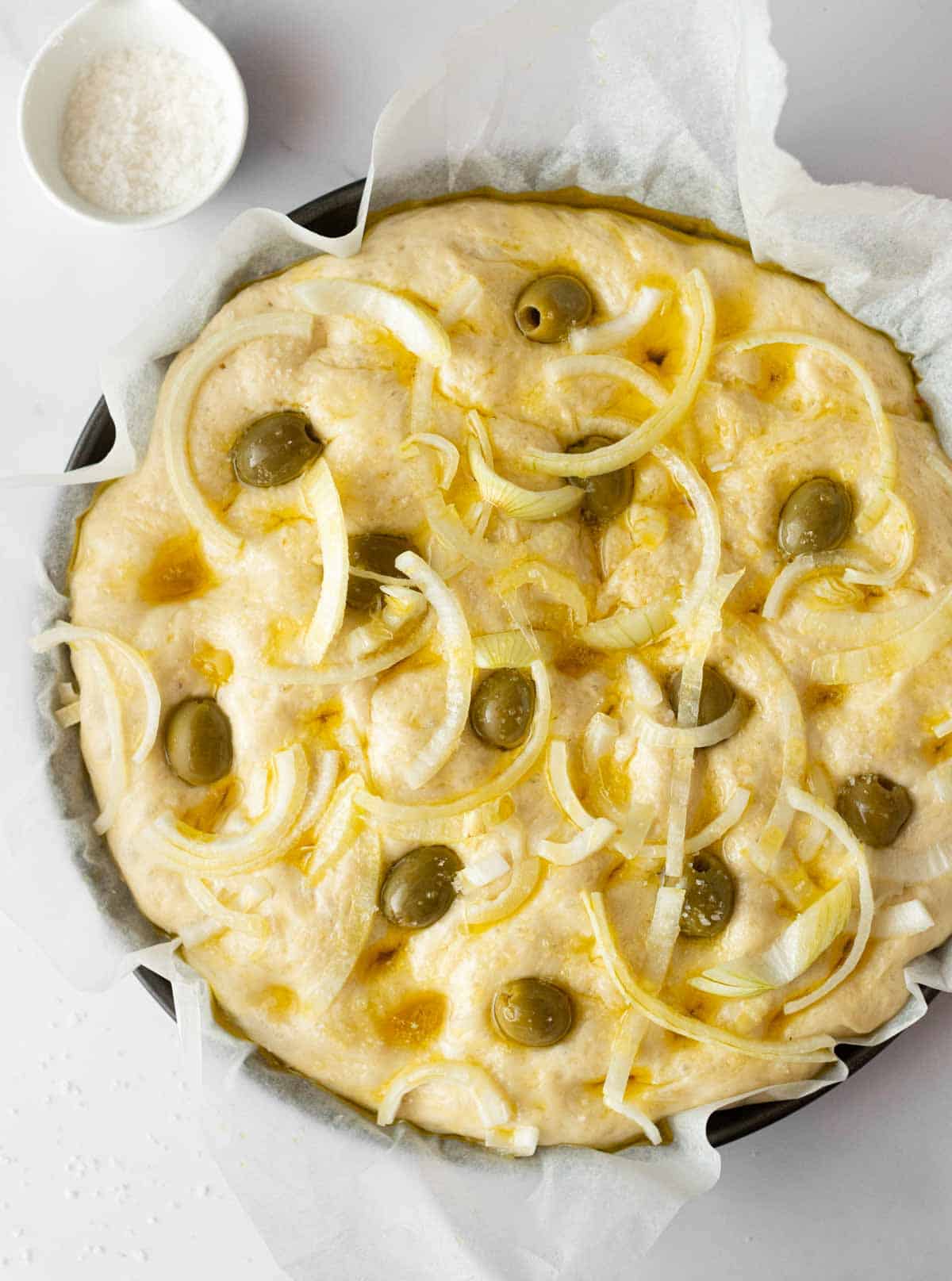 How To Keep Focaccia Fresh
To keep the focaccia from drying out there are two things you can do. If you know you're going to eat it in 1-2 days just cover it with plastic wrap and heat it in the oven for a few minutes before serving. In case you want to store it for more than 2 days, put it in a freezer bag and freeze it. Take it out of the freezer a couple of hours before serving and reheat it in the oven to make it crispy.
How To Store Focaccia
Place the focaccia on a plate and cover with plastic wrap, so that the focaccia is not in direct contact with the air. In this way the focaccia (no knead) will be soft for 2-3 days. Before serving reheat it in the oven for a few minutes.
More Recipes You Might Like:
If you try this recipe...
If you try this Focaccia (no knead) let me know! Leave a comment, rate it, and don't forget to tag a photo #carlocao or #vegaliciously on Instagram. Cheers, friends!
If you have Pinterest...
Feel free to pin the following picture and to follow me by clicking here 😌