Diesen Beitrag gibt es auch auf:

Deutsch
If you're looking for an easy and delicious recipe for white chocolate cheesecake with oreo crust, then you've come to the right place! This delicious cheesecake takes half an hour to prepare, requires only 6 ingredients and is completely vegan.
Before you get into the kitchen to prepare this dessert, you should read the blogpost carefully. The recipe is actually quite simple, but there are some details to keep in mind.
Jump to: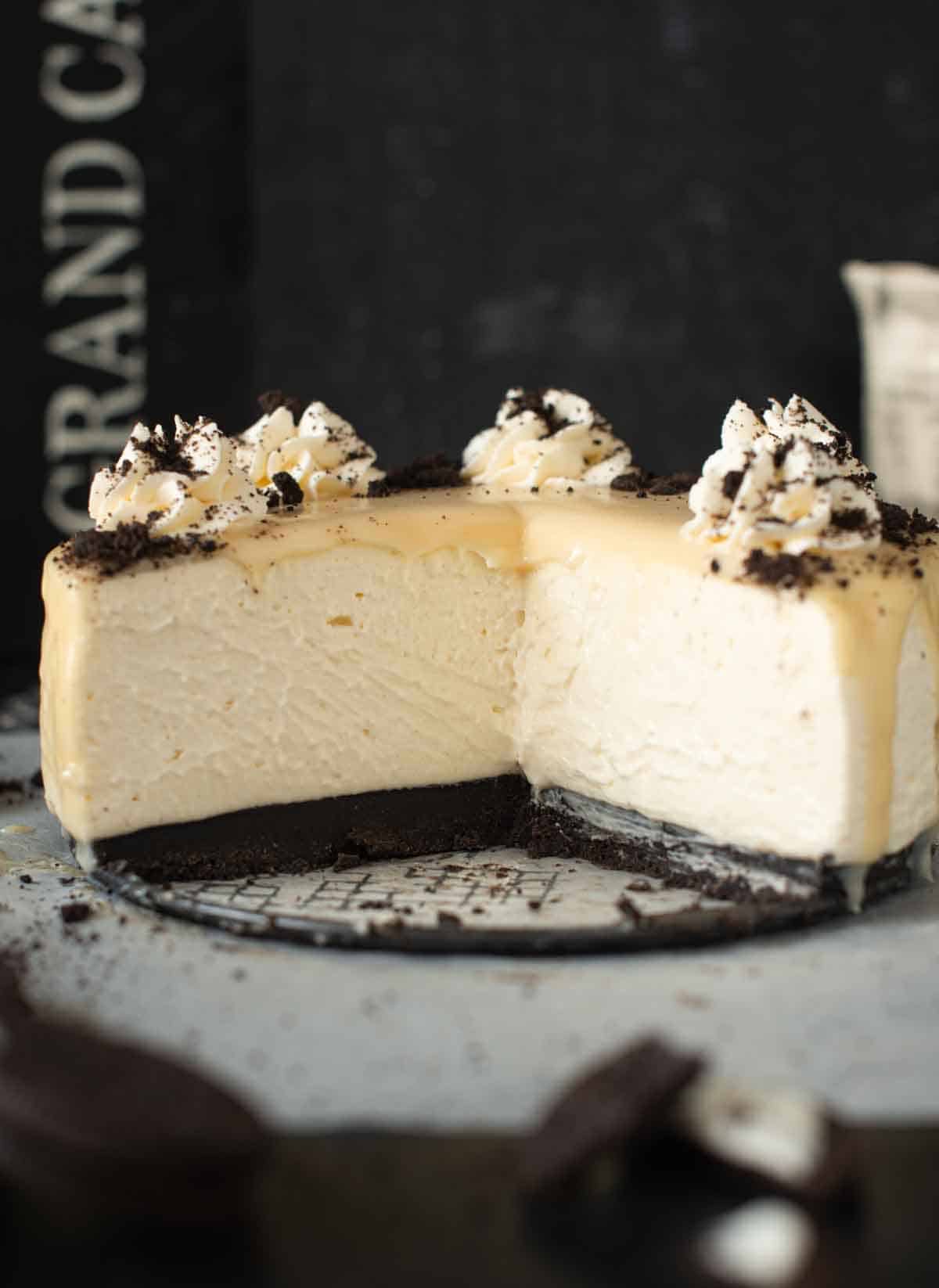 Ingredients
Let's start with the ingredients. Because many of you ask what ingredients I use for cooking, I decided that from now on I will include the links to the products I use (no one pays me for this and I don't earn anything from the links unless stated otherwise).
To make this recipe for white chocolate cheesecake, you'll need the following 6 ingredients:
Vegan white chocolate (I used the white chocolate from iChoc).
Vegan cream cheese (I used the one from Soyana)
Vegan butter (I used the V-Love Bloc from Migros)
Vegan whipped cream (I used the one from Rama (the link is in German))
Oreos (in Switzerland they are vegan)
Powdered sugar
Vegan White Chocolate
Unlike white chocolate, it's pretty easy to find a good vegan cream cheese these days. You can use either soy or oat cream cheese.
But if you want to use "pure" vegan white chocolate, I recommend ordering it online. I used the one from iChoc (which is delicious!) because it's the only one I could find in Switzerland. You can find them at any Eva's Apple store or order them online.
And if you cannot find the vegan white chocolate online, you can follow this recipe and make it yourself.
Vegan Cream Cheese
Unlike white chocolate, it's pretty easy to find a good vegan cream cheese these days. You can use either soy or oat cream cheese.
If you can't find it anywhere, you can take 1200 grams (35 oz) of soy yogurt (unsweetened) and strain it until it thickens and has the same consistency as a traditional cream cheese. You can learn how to strain yogurt in this tutorial.
Vegan Butter
As for vegan butter, you can use margarine or a vegetable butter. Both work well.
Vegan Whipped Cream
Vegan whipped cream is becoming more and more available in supermarkets (something I would never have imagined until 1-2 years ago). If you find an unsweetened version in the supermarket, you should get that one.
If your supermarket is still in the dark ages and doesn't sell any, you can substitute it with coconut whipped cream (you should be able to find coconut milk everywhere).
There you have the tutorial to make coconut whipped cream.
Are oreos vegan?
The crust of our cheesecake is made of Oreos. These are vegan in Switzerland but not necessarily in all countries. To be on the safe side, you should always read the label carefully.
If they are not vegan where you live, you can use vegan cookies and add 1 tablespoon of unsweetened cocoa powder.
Springform
I used a cake pan with a circumference of 20 cm (8"). If you want to make a larger cheesecake you can use a 24 cm (9.5") springform and calculate ⅓ more ingredients.
Recipe-Timeline
Personally, I recommend preparing the cheesecake the day before. So the dessert can rest overnight in the refrigerator and thus the consistency will be stable and super creamy.
If you want to make and serve it the same day, let it chill in the fridge for at least 4 hours before serving.
Step 1: Making the Oreo crust
For the Oreo crust, we put the Oreos in a food processor and grind them finely. Then we add the melted vegan butter and mix well.
Next we transfer the mixture onto the bottom of a 20 cm (8'') springform previously lined with baking paper and flatten it evenly. Finally, we put it in the fridge to rest while we make the filling.
Step 2: Making the white chocolate filling
To make the white chocolate filling, we start by placing the cream cheese into a large bowl. Then we add the powdered sugar and mix well until creamy and smooth.
In another bowl we whip the cream until stiff. In a third bowl we melt the white chocolate in a water bath.
Next, we stir the melted chocolate into the cream cheese mixture and mix with an electric beater until combined.
After that we add the whipped cream and we slowly incorporate it using a spatula. Once we have a lump-free cream, we pour it over the Oreo crust and smooth it out.
Step 3: Let the cheesecake rest overnight
The key to the success of this recipe is to let the cheesecake sit in the fridge overnight. This way the white chocolate filling becomes super creamy and absolutely delicious!
If you don't have time to let the cheesecake rest that long, I recommend putting it in the fridge for at least 4 hours before serving.
Step 4: Ganache Topping
After the cheesecake has been in the fridge overnight, here it comes, the most fun part of this recipe. Namely, pouring the ganache over the cheesecake.
To do this, we first heat the vegan cream (it should get very hot, but not boiling). Once it's hot, we pour it over the chocolate and wait for 2-3 minutes without stirring.
After 2-3 minutes, we mix thoroughly and once the ganache is lump-free, we pour it over the cheesecake, creating an even layer of ganache.
If the chocolate does not melt completely, I recommend putting the bowl in the oven at 50 °C (122 °F) for 10 minutes. After that, the chocolate will definitely be melted.
After that we can serve the cheesecake immediately or put it in the fridge for another 20 minutes so that the ganache sets.
How to store cheesecake
You can store this white chocolate cheesecake either in the fridge or in the freezer (depending on how long you want to keep it).
Refrigerator: place the cheesecake in an airtight container or cover with plastic wrap and store in the refrigerator for up to 3-4 days.
Freezer: wrap the cheesecake cut into slices in plastic wrap, place in an airtight container and store in the freezer. You can keep it in the freezer for up to 1-2 month. Before serving, let it thaw completely in the refrigerator.
Other cheesecake recipes you might like
if you try this recipe….
If you tried this recipe for white chocolate cheesecake, let me know! You can leave a comment, rate the recipe and don't forget to tag a photo with #vegaliciously or #carlocao on Instagram!
pinterest
If you have Pinterest, feel free to pin the image below and follow me by clicking here 😌.
📖 Recipe/Rezept