This post is also available in:

Deutsch
Are you looking for the perfect recipe to make absolutely delicious custard slices? Then you are at the right place. These custard slices are super creamy, completely plant-based, simple to make and require only 7 ingredients and about 30 minutes of your time.
Custard slices are pastries made of puff pastry and filled with luscious custard. They're perfect to serve for a dinner party with friends or to enjoy with a cup of tea or coffee as an afternoon treat.
Before you get in the kitchen to make this recipe I suggest you read this blog-post carefully. In fact I will explain things like: substituting ingredients, making this dessert in advance or how to store the leftovers (if you have any, which I doubt!).
This recipe is sponsored by Migros for this reason V-Love products appear in this blog-post.
Jump to:
Ingredients
You will need the following ingredients to make this dessert:
sugar
vanilla pod or vanilla powder or vanilla extract
soy milk (or any plant milk you like)
vegan puff-pastry (the one sold in supermarkets is almost always vegan)
plant-based butter
saffron powder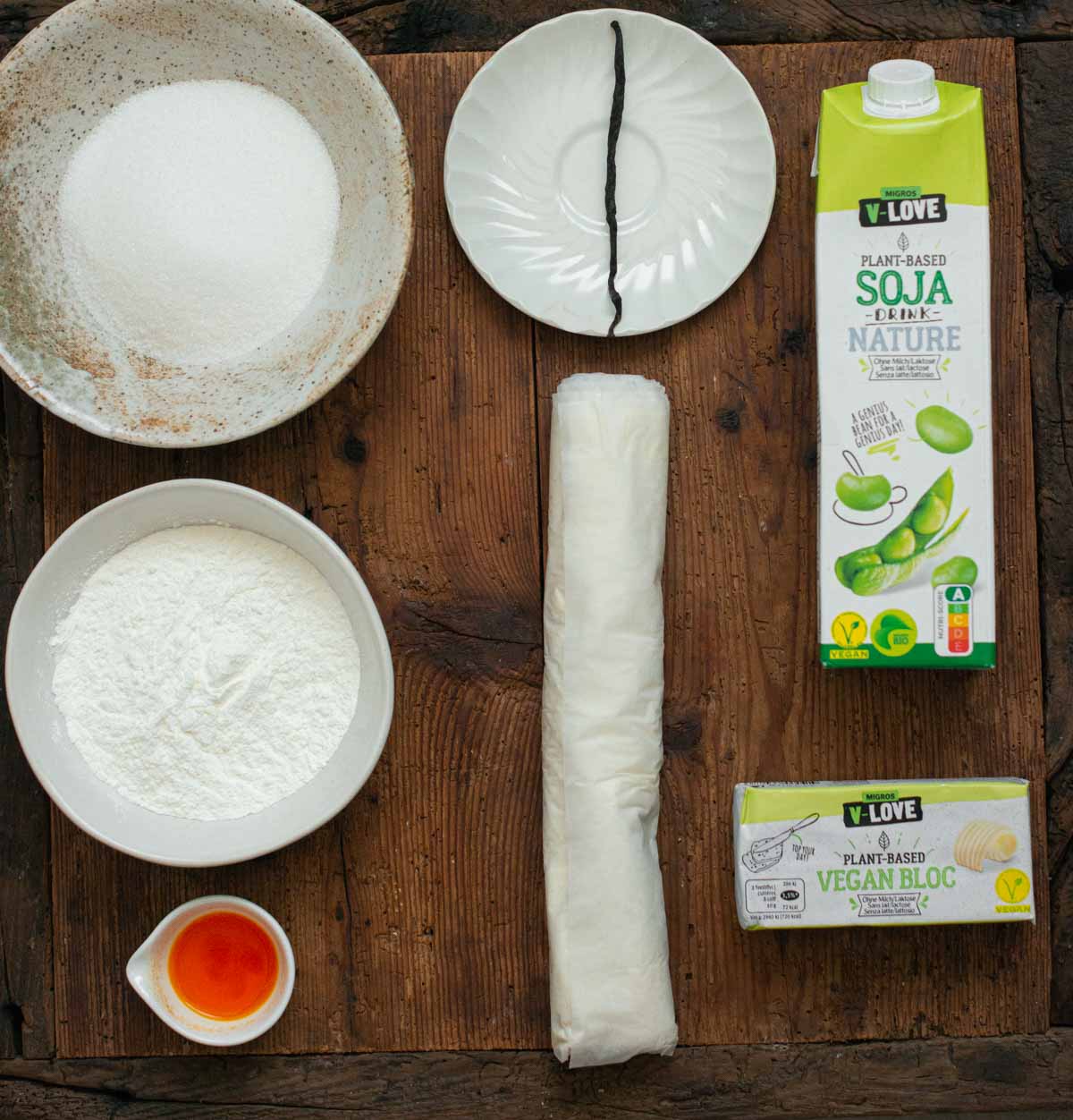 Saffron
I believe that the only ingredient you might want to substitute in this recipe is saffron.
This ingredient serves only one purpose: it gives a vibrant color to the custard. If don't mind having a white custard you can simply skip it.
If instead you want your custard to have the same color as mine then you can use either saffron or the same amount of turmeric.
Turmeric is a yellow spice that can be found in any supermarket and is definitely much cheaper than saffron.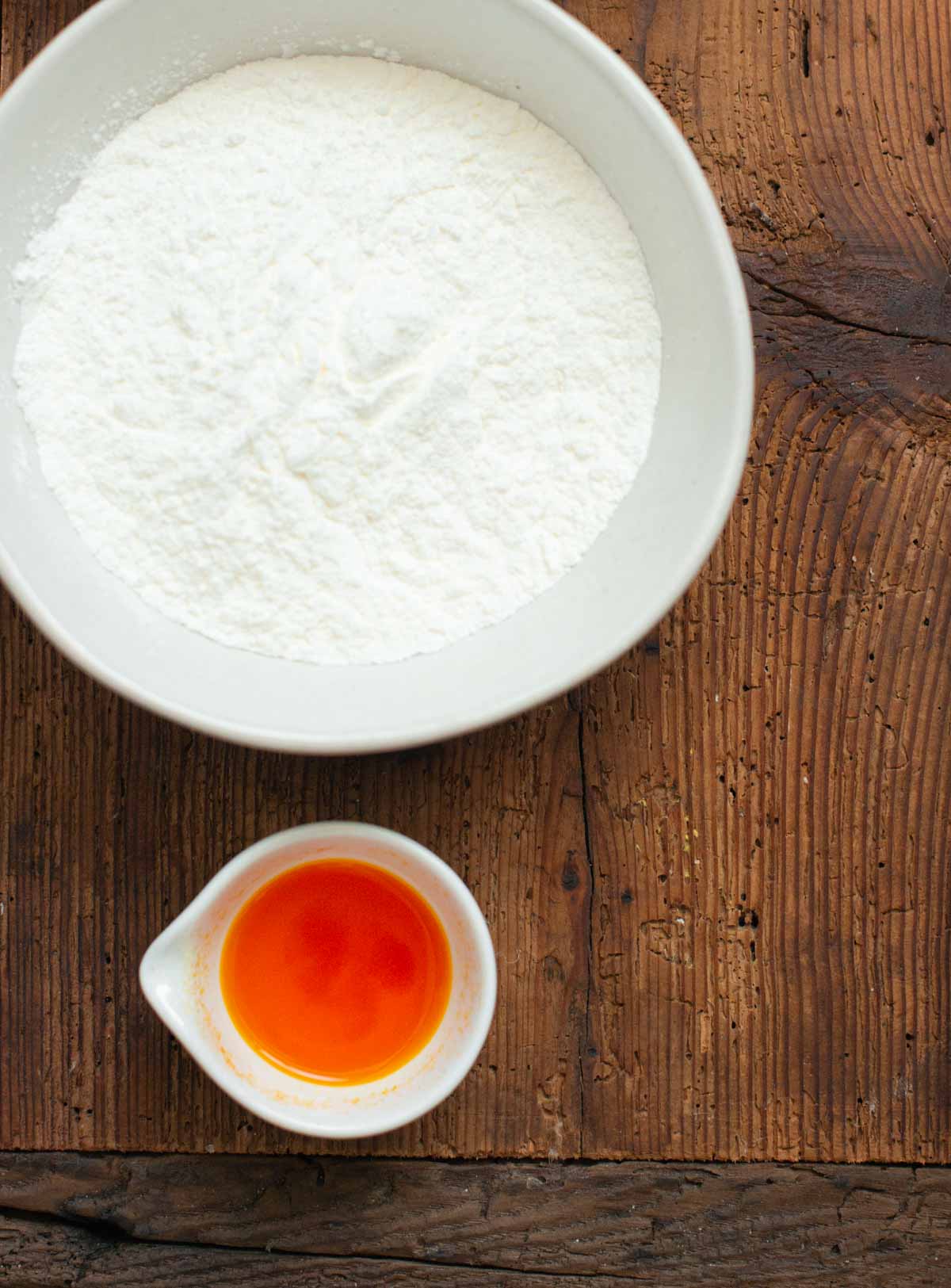 Step 1: Making the custard
The first step to make custard slices is preparing the custard.
To make it, we start by mixing sugar and cornstarch in a large saucepan. Little by little we add the plant-based milk, mixing vigorously so that no lumps form.
Then we add saffron, dissolved in a little water, and the vanilla pod (cut in half).
We bring everything to a boil, always mixing, once the cream is creamy, thick and smooth we remove it from the heat.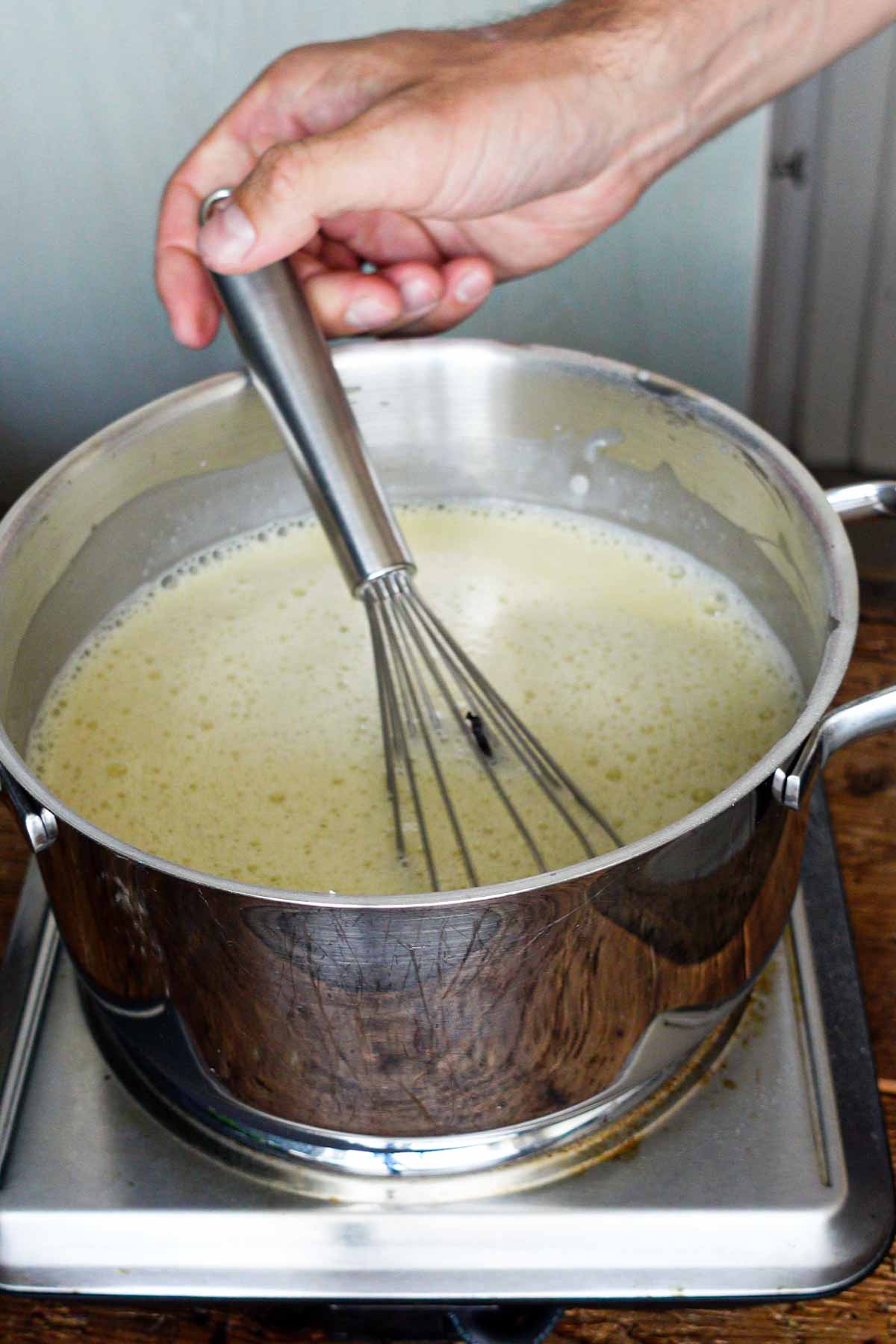 Once we have a lump-free cream, we add the vegetable butter and mix vigorously until it is completely combined.
Once combined the cream should be shiny and smooth.
Finally, we put the custard in a large container, cover it with plastic wrap, and let it cool for at least 1 hour.
Meanwhile, we prepare the puff pastry layers.
Step 2: Making the puff-pastry sheets
To make this dessert it is useful to have a mold that is roughly 23x23 cm (I use my brownies mold). If you have one with a different size, you can safely adjust the measurements. Using a mold will help us assemble the dessert more easily later.
We start by preheating the oven to 220 °C (440 °F). We unroll the puff pastry and cut two 23x23 cm (9x9'') squares (or the size of the mold you're using later).
We prick the puff pastry with a fork, then place the two puff pastry squares on a baking sheet, cover them with baking paper, and lay a second baking sheet (or a baking dish that is not too heavy) on top of the squares, so as to prevent them from rising too much while baking.
We bake them for about 12 minutes in the center of the oven until the puff pastry is golden and crispy (as shown in the picture below).
Step 3: Assembling the custard slices
Once both the custard and the puff pastry layers have cooled we can form our custard slices.
To do this we stir the custard for a few seconds making it creamy again and we place it in a pastry bag.
We line our mold with baking paper and place a layer of puff pastry on the inside.
We pipe the custard onto the puff pastry layer, trying to create an even layer.
Finally, we add the last layer of puff pastry and gently press it down.
Step 4: Adding the topping
For the topping you can either use powdered sugar or sugar glaze, both are delicious.
If you use powdered sugar, sprinkle it on top just before serving.
If you prefer the sugar glaze, make it once the dessert is assembled and allow it to dry for at least 30 minutes before serving.
Step 5: Cutting the custard slices
Cutting the pastry can be a little tricky. That's why I recommend using a bread knife and cleaning it after each cut (to have clean cuts).
I normally cut the pastry into 8 large or 10 regular custard slices.
If you prefer you can also cut the puff-pastry sheets into rectangles and then fill each custard slice with custard. In this case you won't have any cutting-problems.
Make ahead option
This dessert can be made ahead of time.
You can make both the custard and puff pastry layers the day before and keep both in the refrigerator once cooled.
The next day reheat the puff pastry squares in the oven at 180 °C for a few minutes until they become crispy again.
Then stir the custard vigorously until it becomes creamy again and assemble the pastry as described in the recipe.
How to store custard slices
Custard slices are difficult to keep in the refrigerator because the puff pastry absorbs the moisture and becomes soggy. That's why I recommend eating them freshly made.
If you have any leftovers I recommend keeping them in an airtight container lying on a layer of paper towel and serving them within 24 hours.
I do not recommend freezing the custard slices because the chill changes the consistency of the cream.
Other plant-based desserts you might like:
If you try this recipe….
Let me know! Leave a comment, rate the recipe and don't forget to tag a photo with #vegaliciously or #carlocao on Instagram or Tiktok!
Pinterest
If you have Pinterest, feel free to pin the image below and follow me by clicking here 😌
📖 Recipe/Rezept
Vegan Custard Slices
Are you looking for the perfect recipe to make absolutely delicious custard slices? Then you are at the right place. These custard slices are super creamy, completely plant-based, simple to make and require only 7 ingredients and about 30 minutes of your time.
Equipment
1 mould

21 x 21 cm (8x8'')
Ingredients
120

g

cornstarch

(4 ¼ oz)

180

g

white sugar

((6 ½ oz))

1000

ml

plant-based milk

unsweetened ((4 cups))

1

vanilla pod

halved

1

pinch

saffron or turmeric

120

g

vegan margarine or butter

(4 ¼ oz)

1

rectangular puff pastry sheet

42 x 21 cm (16 x 8'')

100

g

powdered sugar

2

tbsp

plant based milk
Instructions
For the custard, place starch and sugar into a large saucepan and mix.

Little by little add in milk while mixing vigorously so that no lumps form.

Stir in saffron (or turmeric) and vanilla.

Bring the mixture to a boil while constantly stirring.

Once the mixture is thick and creamy remove from heat.

Add in butter and mix until combined.

Cover with plastic wrap and allow to cool for at least 1 hour (cool in an ice bath if you want to speed up the process).

Preheat the oven to 200 °C (400 °F).

Unroll puff-pastry onto a sheet of baking paper and cut it into two 21x21 cm (8x8'') squares.

Using a fork, prick the puff pastry all over so that it doesn't puff up too much while baking.

Cover the squares with another layer of baking paper.

Lay a baking tray on top and bake for 12 minutes until golden and crispy. In case the pastry is still slightly pale bake it for another 2-3 minutes.

Take off the oven and allow to cool.

To assemble, line a 21 x 21 cm (8x8'') mould with baking paper.

Stir custard until creamy and place into a piping bag.

Set 1 layer of puff-pastry into the mould.

Pipe custard on top creating an even layer.

Top with the second layer of puff-pastry and press lightly.

For the topping, in a bowl combine powdered sugar and milk. Pour over the pastry and spread evenly.

Set in the fridge for at least 30 min or until the sugar glaze is dry.

Cut the pastry into 8-10 custard slices and serve right away.