Diesen Beitrag gibt es auch auf:

Deutsch
Are you looking for a recipe to make super delicious vegan Korean pancakes? Then you are at the right place! These pancakes are super easy to make and requires few ingredients.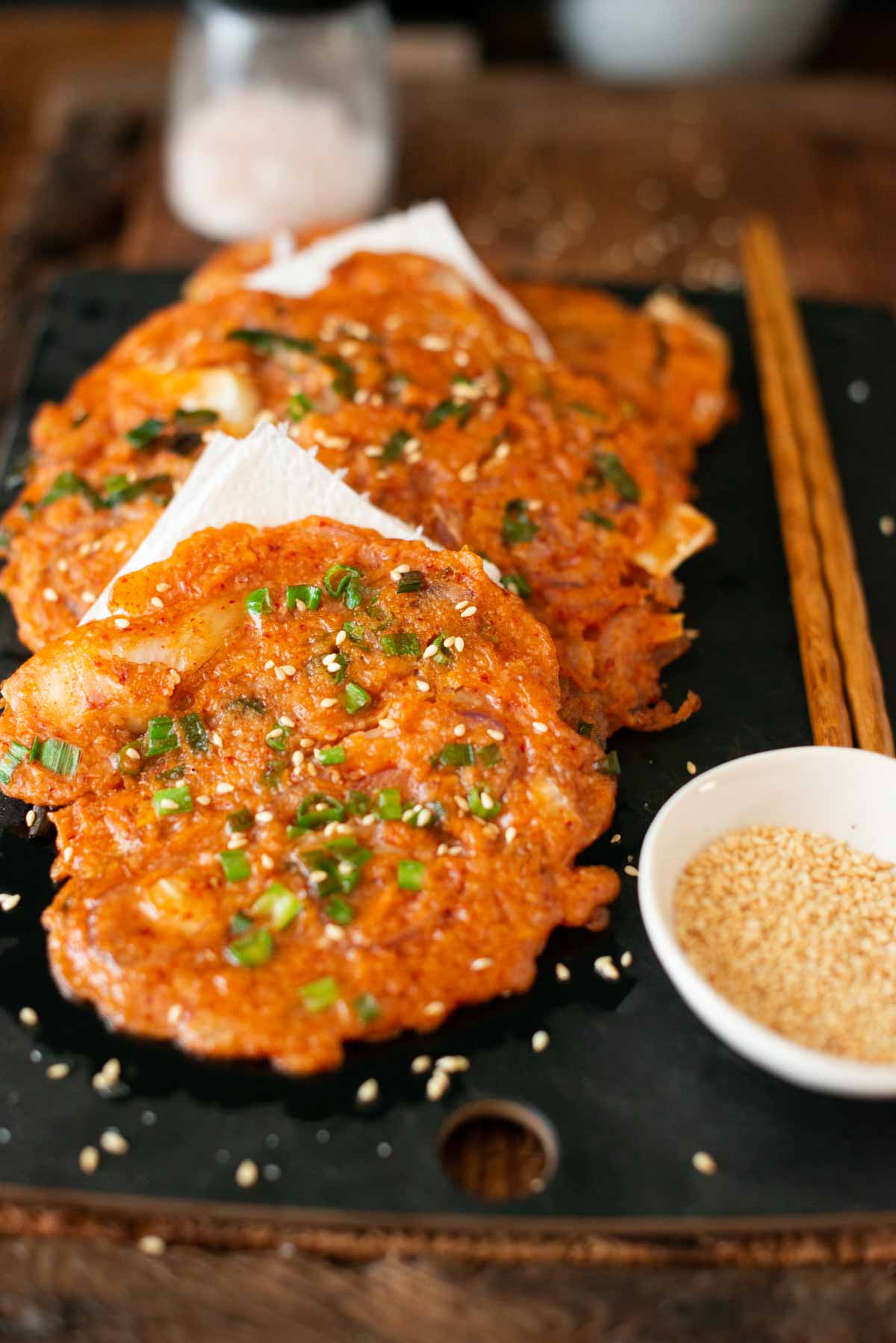 These pancakes are super easy to make, require only 6 ingredients, are vegan, can also be made gluten free and require less than 30 minutes of your time.
Before you jump into the kitchen I suggest you read this blog-post carefully. in fact I will explain how to substitute certain ingredients, how to store the pancakes and other important informations.
Jump to:
Ingredients
To make these vegan Korean pancakes you will need only the following ingredients:
millet flakes
all-purpose flour (can be omitted if you want to make gluten-free pancakes)
vegan kimchi
spring onion
onion
vegetable oil
What's kimchi?
Kimchi, is a traditional Korean side dish made of fermented napa cabbage, Korean radish, carrots and spring onions. These vegetables are covered with a delicious sauce made of garlic, ginger, Korean chili (gochugaru) and other ingredients.
Kimchi is basically a spicy Korean version of sauerkraut. It's healthy, low in calories, high in fibre and it's full of probiotic bacteria which is super healthy for our gut health.
If you haven't tried it I recommend you do!
Is kimchi vegan?
Kimchi mainly consists of fermented vegetables. But it's made using fish sauce and fish paste. For that reason if you want to use store-bought kimchi I recommend you look for a vegan option.
If you want to make it (which I totally recommend), I urge you to follow the recipe of the Korean vegan, I make kimchi following her recipe and it's alway a hit! Here's a link to the video.
Millet flakes
Traditional Korean pancakes are made with eggs. Since this recipe is vegan we replace them by using millet flakes and all-purpose flour.
Millet flakes are delicious and perfect to replace eggs. Once cooked they have a very similar color and consistency.
You can blend the flakes into powder if you want to, I only do this if I make gluten free pancakes.
Gluten free pancakes
If you want to make gluten free pancakes here's how to do it.
As explained above we use all-purpose flour and millet flakes to replace the egg used in the traditional recipe. While flour is not gluten free, millet flakes are.
So to make gluten free pancakes we simply have to skip all-purpose flour and use exclusively millet flakes. They are not only delicious and healthy but also completely gluten free.
In this case, I suggest you blend them into a powder and then combine them with water (as explained in the recipe below).
Step 1: Make the batter
To make these vegan Korean pancakes we start by preparing the batter.
We add flour, millet flakes and water to a bowl and mix until combined. Then we cover the bowl and allow the batter to rest for 15 minutes.
Step 2: Add the veggies
While the batter is resting we chop the veggies.
I suggest chopping the kimchi roughly, we want the pancakes to have big chunks of kimchi in them. This will make the consistency of the pancakes more interesting.
That said, the spring onion and onion should be chopped finely so that they can cook throughly.
Once we've chopped all the veggies we add them to the batter and mix until combined.
Step 3: cook the pancakes
To cook the pancakes we heat a generous amount of vegetable oil in pan. Once hot we add a ladle of mixture and we form it into a pancake. After 1-2 minutes we flip the pancake and cook it for 30 more seconds.
Then we remove the pancake from the pan and place it onto a dish covered with kitchen paper.
We repeat the process with the rest of the mixture. Once all the pancakes are ready, we cut them into bite-sized pieces and serve them straight away.
How to store Korean pancakes
If you have any leftovers don't throw them away.
You can place the pancakes in an air-tight container and store them in the fridge for up to 2-3 days. To reheat, place them in the preheated oven at 180 °C (360 °F) for 10 minutes.
If you want to store them for longer you can place them in an air-tight container and freeze them for up to 1 months. Allow them to thaw in the fridge for 6-8 hours before reheating them as explained above.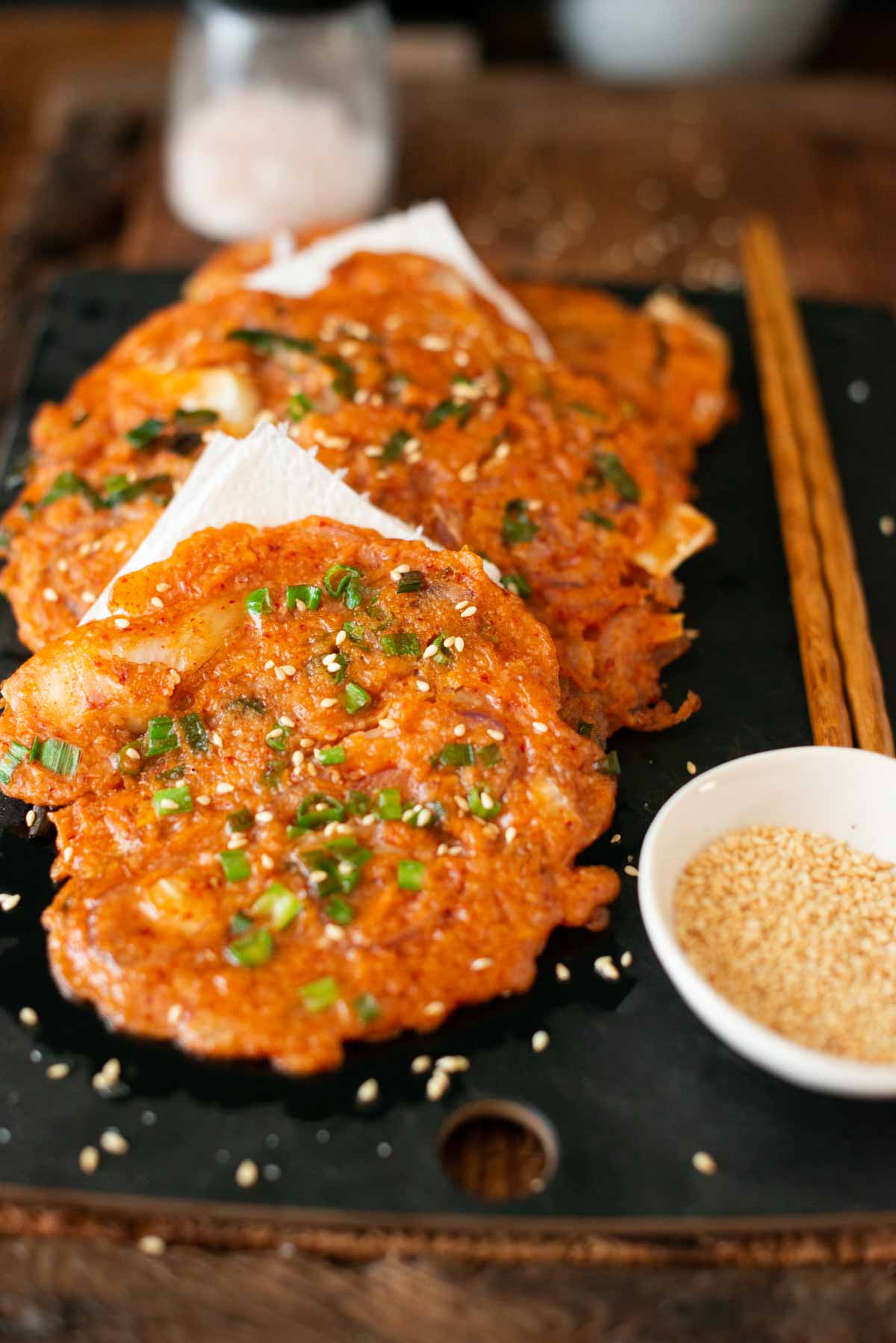 More recipes you may like:
If you try this recipe...
Please let me know! Leave a comment, rate the recipe and don't forget to tag a photo with #carlocao or #vegaliciously on Instagram or Tiktok.
Pinterest
Feel free to pin the image below and if you want to follow me there, feel free to click here 😌
📖 Recipe/Rezept