Diesen Beitrag gibt es auch auf:

Deutsch
Are you looking for a recipe to make an absolutely delicious chocolate pudding cake? Then you are at the right place. This chocolate pudding is super creamy, easy to make and absolutely delicious. It also happens to be 100% vegan and gluten-free.
If you love chocolate pudding you should definitely check out this chocolate tofu pudding recipe. It's delish and protein packed!
Back to our chocolate pudding cake, serve it with a scoop of coconut whipped cream and a cup of hot coffee and you'll have a delicious dessert to treat yourself with.
Before you jump to the recipe, I suggest you read this blog-post carefully. The recipe is easy to make but there are some tricks to keep in mind.
Jump to:
Ingredients
You will need the following ingredients to make this chocolate pudding cake:
coconut milk
water
brown sugar
cocoa powder
dark chocolate
agar agar powder (not flakes!)
See recipe card for quantities.
Substitutions
In case you need to substitute ingredients here you will see what can be substituted and how:
Coconut milk - instead of coconut milk, you can use any plant-based milk of your choice. In this case use ⅓ more of agar agar.
Brown sugar - use the same amount of maple syrup instead of brown sugar to make this pudding refined sugar free.
Agar agar - the agar agar cannot be replaced since there is no other plant-based gelatine replacement other than this one.
Any ingredient not mentioned above cannot be substituted.
Equipment
This recipe is super easy to make and requires almost no special equipment.
To make this recipe all you'll need is a pan and a pudding mold.
Mold
I used a cylindrical form with a capacity of about 1,000 ml (4 cups). In case you do not have a cylindrical form you can of course use whatever form you have on hand.
In the picture below I used a different mold and the result was great.
You can also divide the pudding into smaller cups creating mono-portions.
Instructions
Here you have a brief explanation on how to make the chocolate pudding cake.
Step 1: Heat coconut milk in a large saucepan.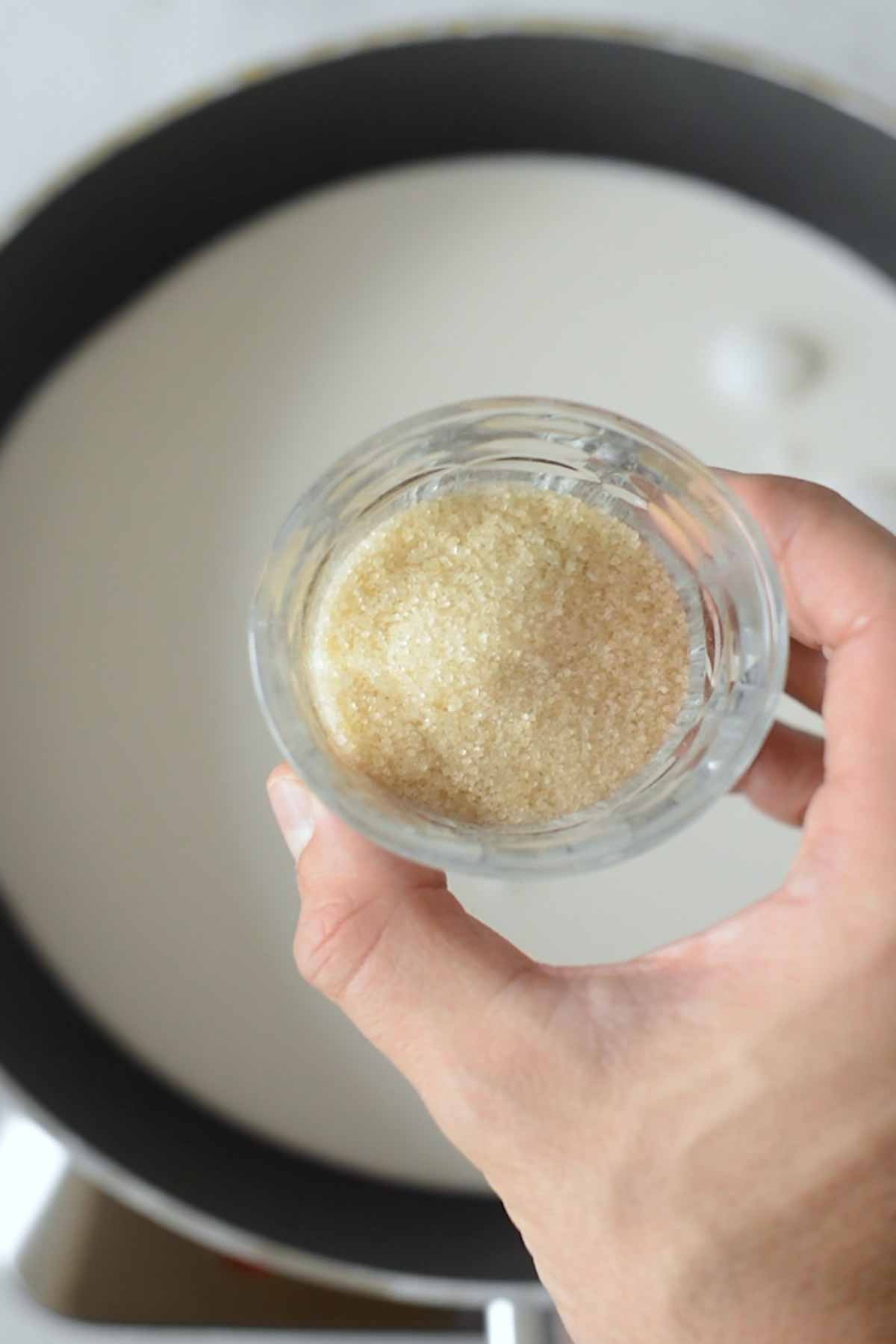 Step 2: Add in sugar, water, cocoa powder, agar agar and salt.
Step 3: Stir in chocolate and bring to a boil.
Step 4: Pour the mixture into a pudding form and allow to chill. Set in the fridge overnight once cool.
Once the pudding has set, we can remove it from the mold, top it with more cocoa powder or melted dark chocolate and serve it straight away with a scoop of coconut whipped cream.
Hint: Remember to mix the agar agar with little water before adding it to the mixture. Otherwise it won't combine properly.
How to store
You can store the chocolate pudding cake in the fridge for about 3-4 days.
Place it in an airtight container and serve it within 3-4 days.
I do not suggest to freeze the pudding since this will completely change the texture.
Make ahead option
The pudding can be made 1-2 days in advance and removed from the mold once you want to serve it.
If you want to pair it with coconut whipped cream I suggest you make the cream just before serving it.
More delicious desserts
Pin this recipe on Pinterest
If you have Pinterest, feel free to pin the following picture and to follow me by clicking here 😌
Leave a comment
If you try this recipe, let me know! You can leave a comment, rate the recipe, and don't forget to tag a photo #carlocao on Instagram or Tiktok!
📖 Recipe/Rezept
---