This post is also available in:

Deutsch
This vegan salmon fillet is tender, buttery and tastes absolutely delicious! Serve it with a squeeze of lemon, some roasted veggies and you'll have a delicious meal to be looking forward to!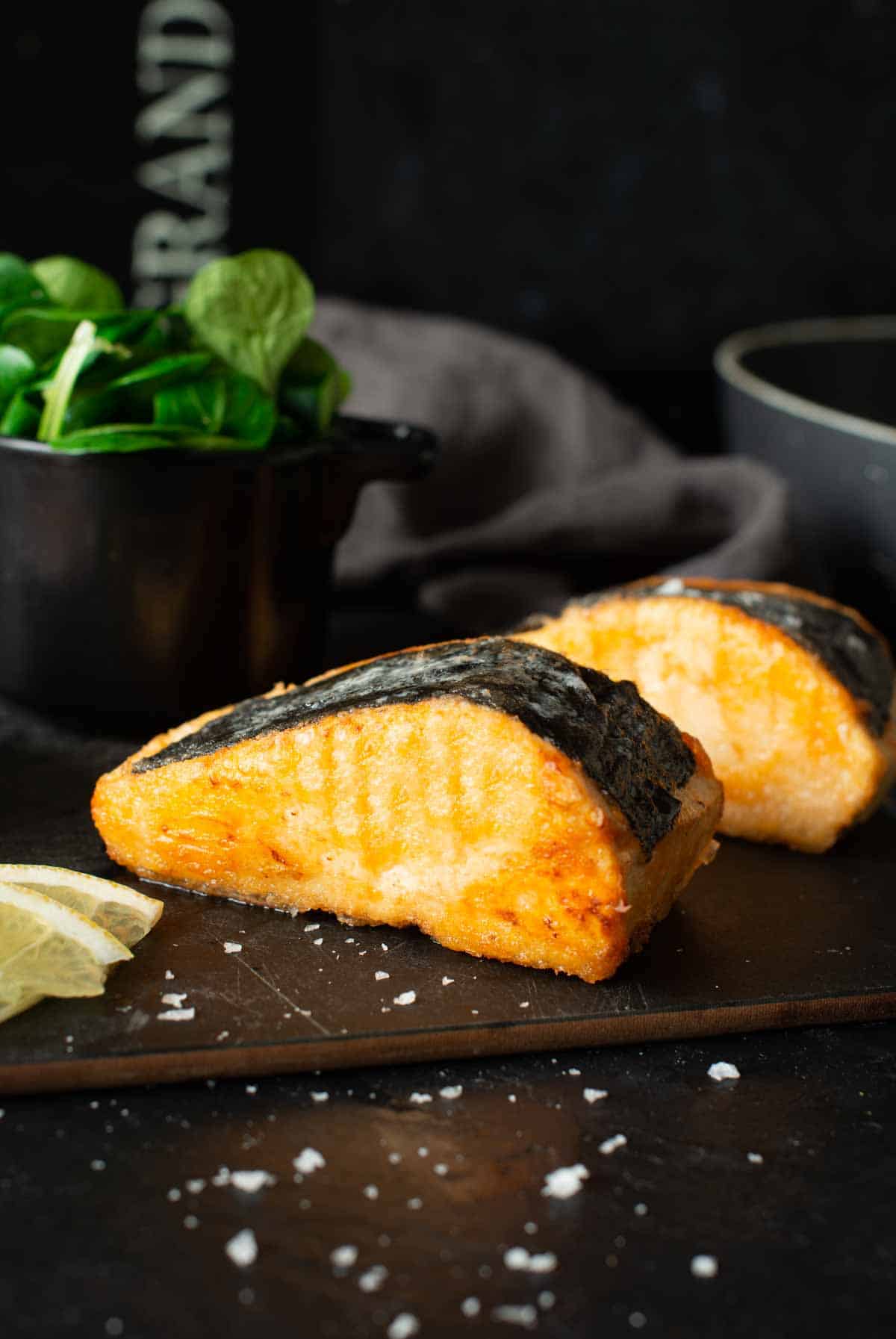 Before going vegan salmon fillet was my go-to when I wanted to cook something quick and delicious. It took me several attempts to achieve a vegan salmon fillet with a flavor and texture similar to the traditional one and I finally succeeded!
Before you jump into the kitchen to prepare the fillet, I recommend you read this blog post carefully. The recipe is simple but there are some important steps you need to pay attention to.
Jump to:
How to make vegan salmon
First of all I want to tell you that making this vegan salmon fillet is super simple and does not require any special ingredients.
The base of the fillet is nothing but tofu. To make the fillet we cut the tofu in the form of a salmon fillet, marinate it in cocktail sauce, cover it with a piece of nori, roll it in cornflour and then fry it for 5 minutes in hot oil on all sides.
Et voilá, the fillet is ready to be served!
Ingredients
To make the vegan salmon fillet you'll need the following 8 ingredients:
nori sheet
vegan mayonnaise
ketchup
cognac
lemon juice
cornstarch
vegetable oil
Which tofu should I use to make vegan salmon?
As I just explained above tofu is the main ingredient of our fillet. For this reason it's important to buy the right one.
To get a consistency similar to that of salmon we have to use firm tofu. If you are not familiar with tofu I leave you this link where it's explained exactly the difference between the various types of tofu.
How to shape the fillet
The eye wants its share, right? That's why I find it important to take 5 minutes to cut the block of tofu into fillets.
I always use a 400 g (14 oz) block of tofu with the length of 10 x 10 cm (4 x 4 inches) from which I can create 2 fillets. To help me cut the shape I use toothpicks that I stick into the tofu, as shown in the photo below.
If you don't have the time/will to cut the block of tofu into fillets, you can simply cut it into strips, the important thing is that they're about 3 cm (1 ¼ inches) thick.
How to create the perfect salmon texture
To make fillets that resemble real salmon we must imitate its veins.
Doing so is easier than it seems, in fact, we just have to make diagonal cuts being careful not to cut all the way through (as shown in the photo below).
Cocktail marinade
The trick to giving a delicious flavor to our fillet and to make it visually similar to salmon is to marinate it in cocktail sauce.
The marinade will create a crispy and delicious coating once the fillet is cooked.
How to make vegan salmon taste like fish
In the vegan cuisine, fish flavor is almost always given by seaweed.
I used nori (the seaweed used to make sushi) to give the typical fishy flavor to the fillets. I add a stripe of seaweed to the top of the fillet and bits between the cuts of the fillet.
That said, the recipe can be adapted, if the fillet tastes too much or too little fishy to you, you can add or remove seaweed to your liking.
Coating
When you fry salmon, it creates a crispy and delicious crust. To achieve a similar result with our vegan salmon fillets we have to coat them with cornstarch.
The starch will soak up the marinade and, once fried, create a delicious crust.
In case you don't have cornstarch you can also use all-purpose flour instead, the result will not be super crispy but just as delicious.
How to cook vegan salmon fillets
The fillets can be cooked in different ways. The method that gives the greatest results is frying them in hot vegetable oil.
That said you can also cook them in the oven or in an air fryer.
In both cases it's important to cover the fillets with a layer of vegetable oil (I recommend using a oil-spray to ensure that the oil covers the entire fillet evenly) and cook them at 200 °C (390 °F) for 20 minutes or until golden brown.
How to serve vegan salmon fillets
Vegan salmon fillets can be served in a variety of ways. I like to pair them with boiled rice, steamed potatoes and baked vegetables. But the options are endless 🙂
Can I freeze the fillets?
Fillets can be prepared the day before. In this case, it's important to put them in an airtight container and refrigerate them.
I do not recommend freezing the fillets because it changes the consistency of tofu which will become more spongy and therefore less similar to salmon.
How to store leftovers
You can store leftover fillets in an air-tight container for up to 2-3 days. Reheat them in a preheated oven at 200 °C (390 °C) for 15 minutes.
More recipes you may like
If you try this recipe...
Let me know! Leave a comment, rate it, and don't forget to tag a photo #carlocao or #vegaliciously on Instagram. Cheers, friends!
If you have Pinterest...
Feel free to pin the following picture and to follow me by clicking here 😌
📖 Recipe/Rezept
Vegan Salmon Fillet
This vegan salmon fillet is tender, buttery and tastes absolutely delicious! Serve it with a squeeze of lemon, some roasted veggies and you'll have a delicious meal to be looking forward to!
Ingredients
1

block of firm tofu

400 g ((14 oz))

1

sheet of nori

half cut into bits, half cut to resemble salmon skin

75

g

mayonnaise

((2½ oz))

½

tbsp

ketchup

¼

tbsp

cognac

(optional but recommended)

¼

tsp

lemon juice

4

tbsp

cornstarch

4

tbsp

vegetable oil

for frying

salt and pepper to taste
Instructions
Pat tofu dry then cut it into 2 fillets (read blog post to know how).

Make diagonal cuts into the fillets (to resemble the texture of salmon) being careful not to cut all the way through.

Add bits of nori into the cuts.

For the marinate, mix ketchup, mayonnaise, cognac and lemon juice in a bowl.

Brush the fillets with marinade, place in an air-tight container and set in the fridge for 30 minutes.

Cut the nori into strips roughly the same size as the tofu fillets. Stick nori to the top of the tofu and brush with water so that it sticks perfectly.

Coat the fillets with cornstarch.

Heat oil in a saucepan over medium heat, fry the fillets for a few minutes on each side until golden.

Serve straight away, enjoy!