Diesen Beitrag gibt es auch auf:

Deutsch
Would you like to make vegan shredded chicken? Then you've come to the right place. This recipe is easy to make and requires only three ingredients: Flour, water and spices. The seitan you make with this recipe can be used as a chicken substitute for any recipe.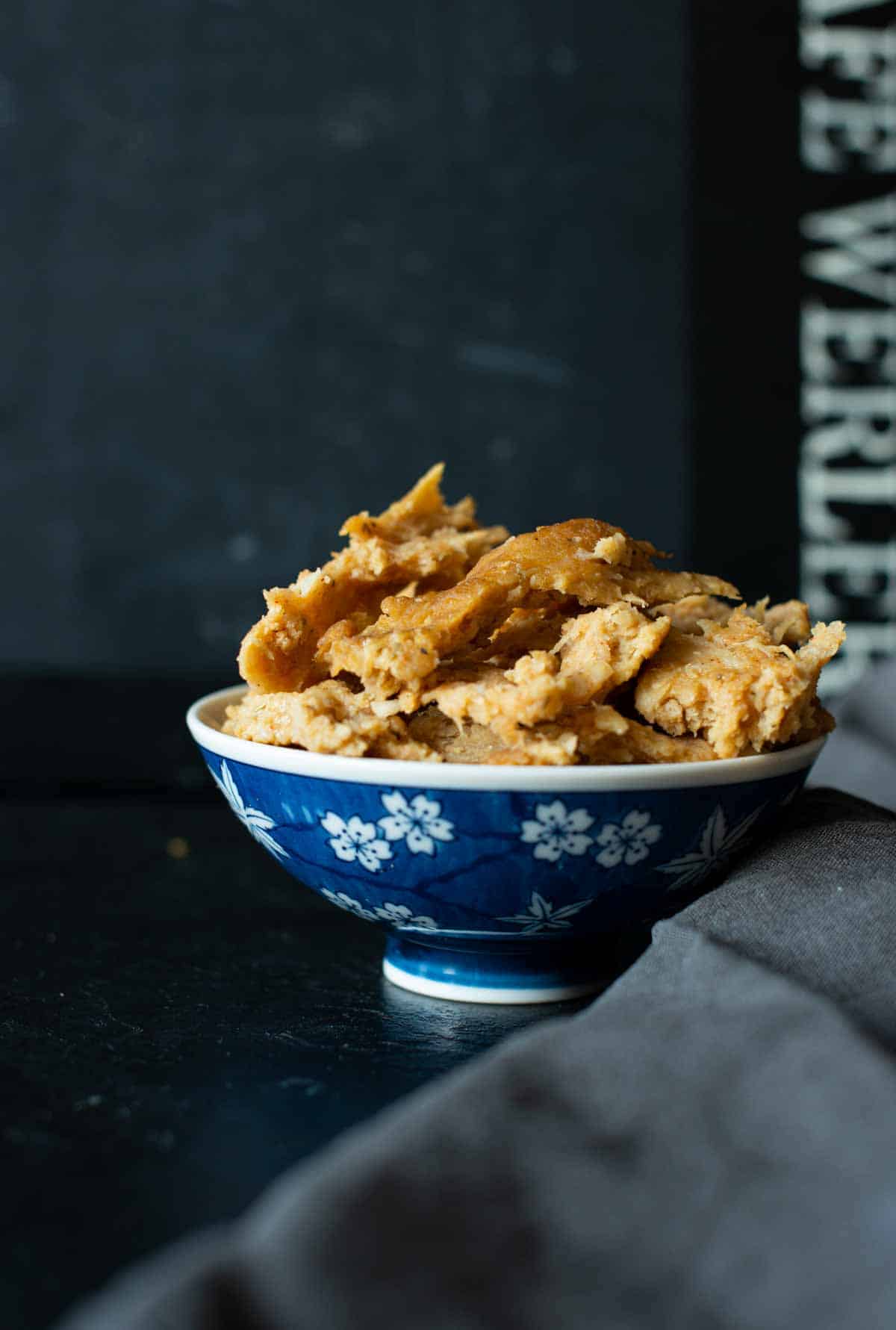 This recipe is based on a Japanese technique of making seitan by first forming a dough using water and flour, which is then washed several times until the dough is almost entirely made of gluten.
This protein-rich dough is called seitan and can be used as a meat substitute in a vegetarian or vegan diet.
Before you jump into the kitchen to prepare this recipe, I recommend you read this blog post carefully.
Jump to:
Ingredients
To make vegan shredded chicken we need only 3 ingredients:
all-purpose flour
water
spices
Spices
To make the chicken extra delicious we need to add flavors.
I always like to play around with different ones (and you can too) but these are my favorite ones:
smoked paprika (if you like it smoky)

mustard
rosemary powder
thyme powder
garlic powder
onion powder
Step 1: Make the dough
We start by making a dough using water and flour.
The dough should be rather smooth so knead it for a couple of minutes.
Trick: I hate kneading so I always knead the dough for 1-2 minutes and then I let it rest covered for 10 minutes. After that the dough will be way easier to knead!
Step 2: Wash out the starch
After we have a smooth dough we put it into a large bowl and cover it with cold water.
The dough has to rest for at least 30 minutes before we start washing it.
Step 3: Wash the dough
The washing process is fun!
All we have to do is kneading, squeezing, pulling the dough under water so that as much starch as possible separates from the gluten network.
The more starch we wash off the firmer our vegan chicken will be. This process can take up to 15 minutes but it's totally worth it trust me!
We know we've washed our seitan enough when we can pull it and it doesn't break. If not, we have to keep on washing off the starch!
Step 4: Add spices & flour
Now we can add all the spices and a little flour and knead briefly until incorporated.
Texture
If we've done a good job that's how the texture of the seitan should look like.
Do you see all these strings? That's what will give our vegan chicken the perfect meaty texture!
Step 5: Braid & know the dough
Now we can let the fun part begin!
In order to have a final product with long strings that resemble the texture of chicken, we need to press the seitan as shown in the picture, cut it into 3 pieces and braid it.
Then we pull the braid and knot it one time et voilà! We are ready to cook it!
Step 6: Make the broth
We want to simmer the seitan in a delicious vegetable broth.
To do so, we start by bringing a large pot of water to a boil and add in enough broth powder to get a tasty broth.
I like to add 1-2 onions, 1 garlic clove and 1-2 carrots to my broth to make it extra delish.
Step 7: Simmer the seitan
We add the seitan to the broth and allow it to simmer on low heat, with half closed lid, for about 90 minutes.
Once cooked it should be firm, if not simmer it for another 15-20 minutes.
Step 8: Allow to rest
That's the key to success: Let it rest over night in the fridge!
You don't want to skip this step in any case or the texture won't be as firm and as "chicken-like".
Step 8: Shred the seitan
Now that the seitan is ready we can take it out of the fridge and using two forks we shred it into small pieces.
Et voilà our vegan shredded chicken is ready!
How to store
You can use the seitan immediately or store it for later times.
Refrigerator: put it in an airtight container and use it within 3-4 days.
Freezer: put it in an airtight container or vacuum it. Use it within 2 months. Let the seitan thaw overnight before cooking it.
Troubleshooting
The recipe is quite easy but there are a couple of problems that might pop up:
The seitan breaks while braiding: this happens only if we haven't washed off enough starch. We can add 1-2 tbsp of flour or gluten powder and knead the seitan briefly. This will make the seitan firmer. OR the seitan might only need some rest. Put it in the fridge for 1 hour and you'll won't have any problems braiding it afterwards (been there done that).
The vegan shredded chicken is too tender: This happens if we haven't washed off enough starch. At this point there are only two things we can do: roast the vegan chicken with a little oil until crispy in the outside and tender in the outside OR freeze the chicken and thaw it before using (this will make the chicken slightly firmer).
How to use the vegan chicken
With the shredded chicken you can make these absolutely delicious Vegan Kabobs with Sweet Curry Marinade. Click here to check out the recipe.
Leave a comment
If you try this recipe, let me know! Leave a comment, rate it, and don't forget to tag a photo #carlocao or #vegaliciously on Instagram. Cheers, friends!
Pin this recipe on Pinterest
Feel free to pin the following picture and to follow me by clicking here 😌
📖 Recipe/Rezept
Vegan Shredded Chicken
Here you have the recipe to make the best vegan shredded chicken using the famous tiktok method of washing off the starch!
Ingredients
1

kg

all-purpose flour

(35 oz)

700

ml

water

(a little less than 3 cups)

1

tsp

maple syrup

2

tsp

smoked paprika

1

tbsp

mustard

2

tsp

salt

1

tsp

dried rosemary

2

tsp

garlic powder

3

tbsp

all-purpose flour

800

ml

vegetable stock

hot (3 cups)

2

onions

halved (optional)

2

carrots

halved (optional)

1

garlic clove

optional
Instructions
In a large bowl mix flour and water. Knead until smooth.

Place the dough into a large bowl, cover with cold water and let it rest for 30 minutes.

Knead, pull and squeeze the dough in the water until the water gets really opaque (almost white). Strain the seitan and repeat the process until the water only gets slightly opaque and the seitan is elastic and spongey. The seitan should weight around 450 g once is ready.

Squeeze the seitan and put in into a bowl. Add the maple syrup, mustard, salt, rosemary and garlic powder and knead until incorporated.

Add flour and knead briefly.

Now flatted the seitan into a rectangle and cut it into 3 strands (as shown in the blogpost). Braid the strands, then pull the seitan and knot it once.

Place the vegetable stock into a large pan and bring to a boil, add onions, carrots and garlic if desired, then lower the heat, add in the seitan and cook with the lid half on, over low heat for 90 minutes.

Flip the seitan every 30 minutes and add more stock if needed.

Once cooked allow it to cool completely and store it in the fridge overnight.

Shred the vegan chicken using two forks and use straight away.

You can store the shredded vegan chicken for 3 days in an airtight container in the fridge or you can freeze it and thaw it whenever you need it.