Diesen Beitrag gibt es auch auf:

Deutsch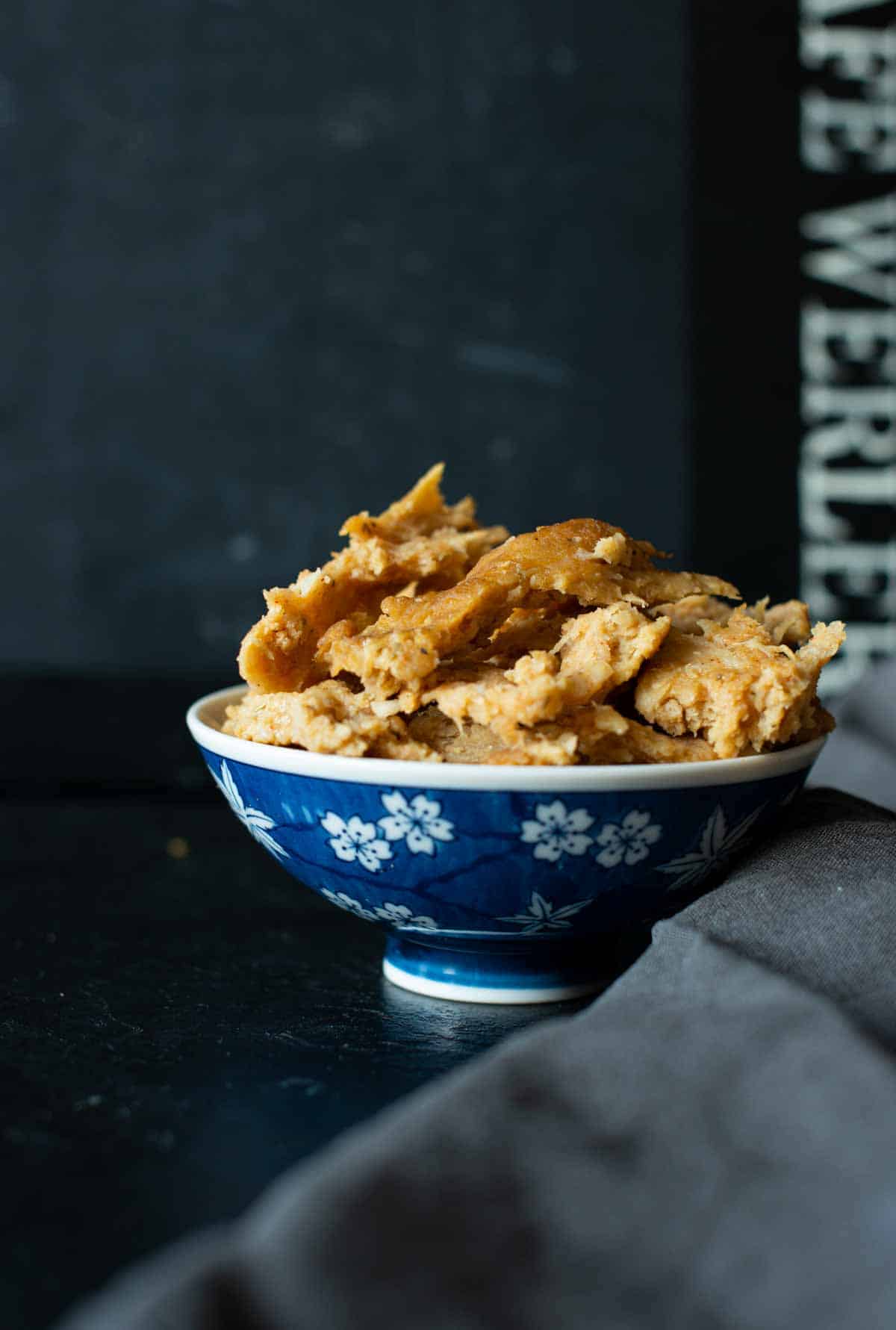 Hi everyone! Today I have a life-changing recipe for you: an easy and flavorful vegan shredded chicken recipe (or shredded seitan if you prefer) that's incredibly versatile and absolutely delicious. It's my favorite way to make it because it keeps the vegan chicken moist and there is no need of unusual ingredients (which is always great!).
Recipe Video
Ingredients
The base of out vegan shredded chicken is super simple: flour, water and lots of spices! That's it!
Spices
To make it extra delicious we need to add flavors. I always like to play around with different ones (and you can too) but these are my favorite ones: maple syrup (you can use another sweetener too), smoked paprika (if you like it smoky), mustard, salt, rosemary (thyme is great too!) and garlic powder (I'm garlic addicted).
How to make the vegan shredded chicken
We start by making a dough using water and flour. The dough should be rather smooth so knead it for a couple of minutes. Trick: I hate kneading so I always knead the dough for 1-2 minutes and then I let it rest covered for 10 minutes. After that the dough will be waaay easier to knead!
Washing out the starch
After we have a smooth dough we put it into a large bowl and cover it with cold water. The dough has to rest for at least 30 minutes before we start washing it.
The washing process is FUN! All we have to do is kneading, squeezing, pulling the dough under water so that as much starch as possible separates from the gluten. The more starch we wash off the firmer our vegan chicken will be. This process can take up to 15 minutes but it's totally worth it trust me!
We know we've washed our seitan enough when we can pull it and it doesn't break. If not, we have to keep on washing off the starch!
Spice up the vegan chicken
Now we can add all the spices and knead briefly.
Trick nr. 2: Add some flour
I like to add 2-3 tablespoons of flour so that the flavors will stay in the vegan chicken once it's cooking.
Texture
If we've done a good job that's how the texture of out baby should look like. Do you see all these strings? That's what will give our vegan chicken the perfect texture!
Braiding, Pulling, Knotting
Now we can let the fun part begin! In order to have a final product with long strings that resemble the texture of chicken, we need to press the seitan as shown in the picture, cut it into 3 pieces and braid it. Then we pull the braid and knot it one time et voilà! We are ready to cook it!
Stock
I always cook the seitan in vegetable broth. I like too add 1-2 onions, 1 garlic clove and 1-2 carrots to make the broth more flavorful.
Cooking time
We let the seitan simmer on low heat, with half closed lid, for about 90 minutes. Once cooked it should be firm, if not cook for another 15-20 minutes.
Resting time
That's the key to success: Let it rest over night in the fridge!!! You don't want to skip this step in any case or the texture won't be as firm and as "chicken-like".
Shredding
Now that our seitan is ready we can shred it using two forks. Et voilà our vegan shredded chicken is ready!
How to store the vegan Shredded Chicken
You can obviously use the shredded chicken right away but you've made too much and want to store it you can put it in an airtight container and store it in the fridge for up to 3 days or you can freeze it and thaw whenever you feel like shredded chicken!
Troubleshooting
The recipe is quite easy but there are a couple of problems that might pop up:
The seitan breaks while braiding: this happens only if we haven't washed off enough starch. We can add 1-2 tbsp of flour or gluten powder and knead the seitan briefly. This will make the seitan firmer. OR the seitan might only need some rest. Put it in the fridge for 1 hour and you'll won't have any problems braiding it afterwards (been there done that).
The vegan shredded chicken is too tender: This happens if we haven't washed off enough starch. At this point there are only two things we can do: roast the vegan chicken with a little oil until crispy in the outside and tender in the outside OR freeze the chicken and thaw it before using (this will make the chicken slightly firmer).
Just so that you know...
With the shredded chicken you can make these absolutely delicious Vegan Kabobs with Sweet Curry Marinade. Click here to check out the recipe.
If you try this recipe...
If you try this recipe, let me know! Leave a comment, rate it, and don't forget to tag a photo #carlocao or #vegaliciously on Instagram. Cheers, friends!
If you have Pinterest...
Feel free to pin the following picture and to follow me by clicking here 😌