Diesen Beitrag gibt es auch auf:

Deutsch
This vegan carrot cake is super juicy, extra soft and unbelievably delicious. This recipe is completely vegan and dairy-free.
The carrot cake turns out super soft, moist, perfectly sweet and full of flavor. To make it extra flavor ful the cake is spiced with ginger, cloves, nutmeg, cardamom and cinnamon.
The cinnamon frosting is the cherry on top, it makes the cake even creamier and irresistible (YUM!).
I've made this recipe on a lot of occasions and I'm not lying when I say it's one of my most popular cakes so far!
Jump to:
Spices
The key to the success of this cake are the spices. In fact, to make this cake an explosion of flavors you need 5: cardamom, cinnamon, cloves, nutmeg and ginger.
The combination of flavors and aromas makes this carrot cake delicious, delicate and special. So please don't skip any of them!
Cinnamon Frosting
The frosting is super easy to make and gives a creamy touch to the cake. To make it, simply whip margarine (or vegan butter), powdered sugar, cinnamon and a dash of soy milk (or another vegan milk of your preference) until soft and lump-free.
The frosting is optional. In fact, this carrot cake is absolutely delicious without it, but if you want to be a little extra I recommend making it!
Jump to:
Springform
To make this cake I used a Ø 18 cm (7" inches) springform, if you prefer using a Ø 22 cm (9" inches) you can do it, just make ⅓ more batter.
The baking time and temperature do not change.
How to store
You can either store the cake in the fridge or freezer (depending on how long you want to store it for).
Fridge: You can keep the carrot cake in the fridge for up to for 3-4 days. Allow to come up to room temperature before serving.
Freezer: Wrap the cake well in cling film, either whole or by the slice, and place in an airtight container. This will prevent it from absorbing flavors from other food in the freezer. You can store the cake in thefreezer for up to 1 month. Allow to thaw completely before serving.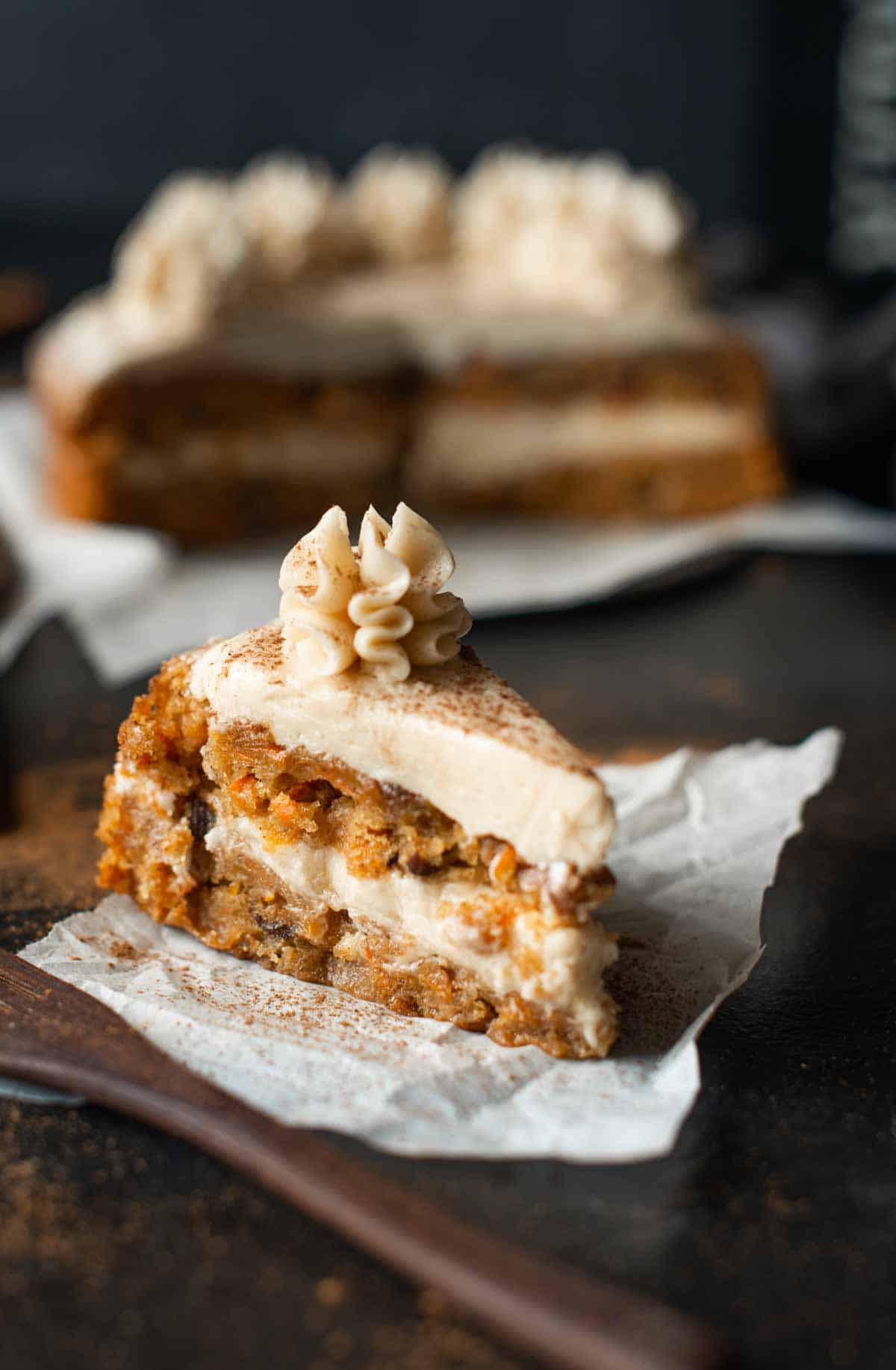 More Delicious Desserts
Pinterest
If you have Pinterest, feel free to pin the following picture and to follow me by clicking here 😌
If You Try This Recipe...
Let me know if you try this carrot cake spiced! Leave a comment, rate the recipe, and don't forget to tag a photo #carlocao or #vegaliciously on Instagram!
📖 Recipe/Rezept