Diesen Beitrag gibt es auch auf:

Deutsch
Dandelion honey is a vegan honey that was developed long ago out of the need to create a honey substitute that even poor families could afford. In fact, the ingredients needed are cheap and easily available. These are: Dandelion flowers, water, lemon and sugar.
The preparation involves boiling dandelion flowers in boiling water, which creates a tea. This tea is then slowly simmered with sugar until it reaches the consistency of honey. The result is a homemade dandelion honey with a delicate and delicious taste!
Before you jump into the kitchen please read this blog-post carefully. The recipe is easy to make but there are some tips and tricks to know before you start.
Jump to:
Why Is Honey not Vegan?
Honey is not vegan. That because it is made by bees for bees and a vegan diet is free of all products for which animals are exploited. In addition, bees are unfortunately kept in mass breeding, genetically manipulated, artificially inseminated and often injured or killed by the beekeeper.
Luckily, there are now plenty of absolutely delicious and easy-to-prepare alternatives to honey, and this dandelion honey is proof of that!
Can I Make Dandelion Honey without Sugar?
To prepare dandelion honey, you need to use sugar. You can use either white sugar or raw sugar. In the first case the honey will be lighter, while in the second case you will get a honey similar to the one in the photos.
Can I replace Sugar with Stevia, Xylitol, Maple Syrup or Agave Syrup?
No, unfortunately you can't. To get the right consistency and taste you have to use caster sugar or raw sugar.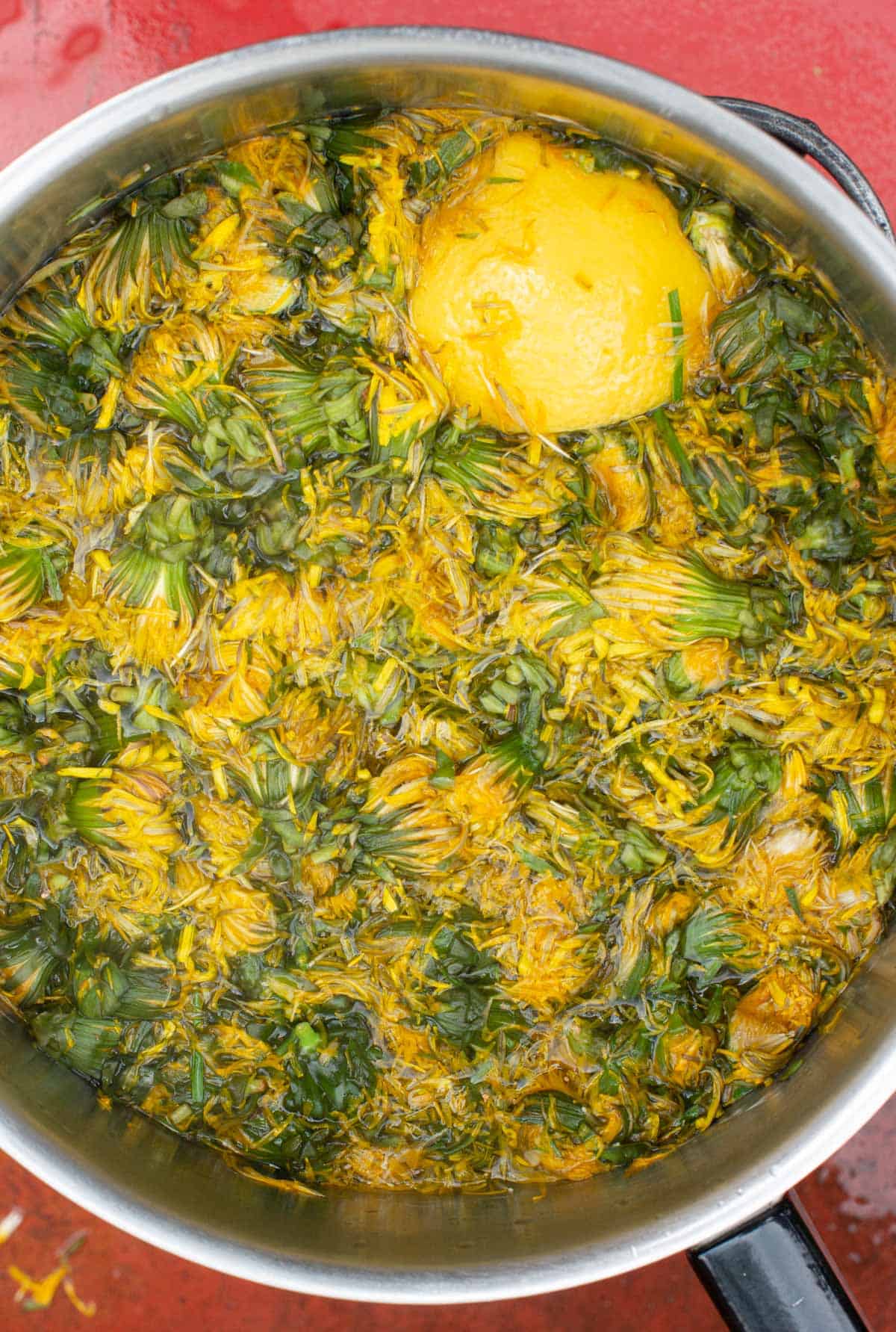 Harvesting Dandelions
Harvest wild dandelion flowers between April and May (in the mountains you can find them until mid/late June) on a sunny day. Collect them in fields that have not been fertilized and where dogs and cats do not run around every day.
Please do not pick every dandelion you see in a field. Try to pick a few here and there so that you leave some for the bees and other insects.
Do I Need to Remove The Green Part of The Flowers?
No. And the honey won't turn out bitter if you don't remove the green part. I've never done it and my dandelion honey tastes just amazing!
Dandelion Honey Timeline
To make the honey you need in the ideal case 2 days. On the first day you collect the dandelion flowers, wash them, make the tea and allow the flowers to steep in the tea for at least 12 hours.
The next day, pour the liquid through a sieve into a second pot. Discard the flowers, bring the liquid to a boil, add the sugar and simmer it on low heat until it gets the consistency of a thick honey.
If you need to prepare the honey in a single day, you can do that too. Infuse the flowers in the tea for only 2 hours, then strain the tea and boil it with sugar. In this case, the honey will taste less like dandelion.
Shelf life of Dandelion Honey
It is difficult to give an exact shelf life. But if the containers are well sterilized and the honey is stored in a cool and dark place, it should keep for about 6-12 months.
More Delicious Recipes You Might Like
Leave a comment
If you try this recipe, let me know! You can leave a comment, rate the recipe, and don't forget to tag a photo #carlocao or #vegaliciously on Instagram!
Pinterest
If you have Pinterest, feel free to pin the following picture and to follow me by clicking here 😌
📖 Recipe/Rezept
Dandelion Honey
Ingredients
500

g

dandelion flowers

((17.5 oz))

1

l

water

((4 cups))

1

lemon

organic, halved

750

g

sugar

((26.5 oz))
Instructions
Collect dandelion flowers on a sunny day and wash them well.

Put the flowers together with 1 liter of water and the lemon in a large pot and simmer for 15 minutes.

Then turn off the heat, remove the pot from the stove and leave to infuse, covered, for about 12 hours.

Pour everything through a sieve, pour juice back into the pan.

Add sugar and simmer on low heat for about 1 hour. Stir occasionally.

after 1 hour, put 2-3 spoonfuls of the honey in a jar and let cool briefly. If the honey is too runny, you can continue to boil the honey until the desired consistency is reached. If it is too hard, add a little water and stir well.

Pour honey while still hot into sterilized glass jars and close immediately.

Store honey in a cool and dark place. It should keep for about 6-12 months.