Diesen Beitrag gibt es auch auf:

Deutsch
This vegan spinach pie is my delicious version of a famous Italian pie called torta pasqualina which is a savory pie traditionally baked for Easter, that is made of layers of spinach, ricotta, and egg.
To create this vegan version, I omitted the eggs (which I never liked in the traditional version anyway) and replaced the traditional ricotta with almond ricotta (soy or cashew ricotta works too).
This spinach pie is quick to make, super delicious and can be served as both lunch or dinner.
Before you jump into the kitchen to make this spinach pie, I recommend you read the blog post carefully. The recipe is simple, but there are a few steps to follow.
Jump to: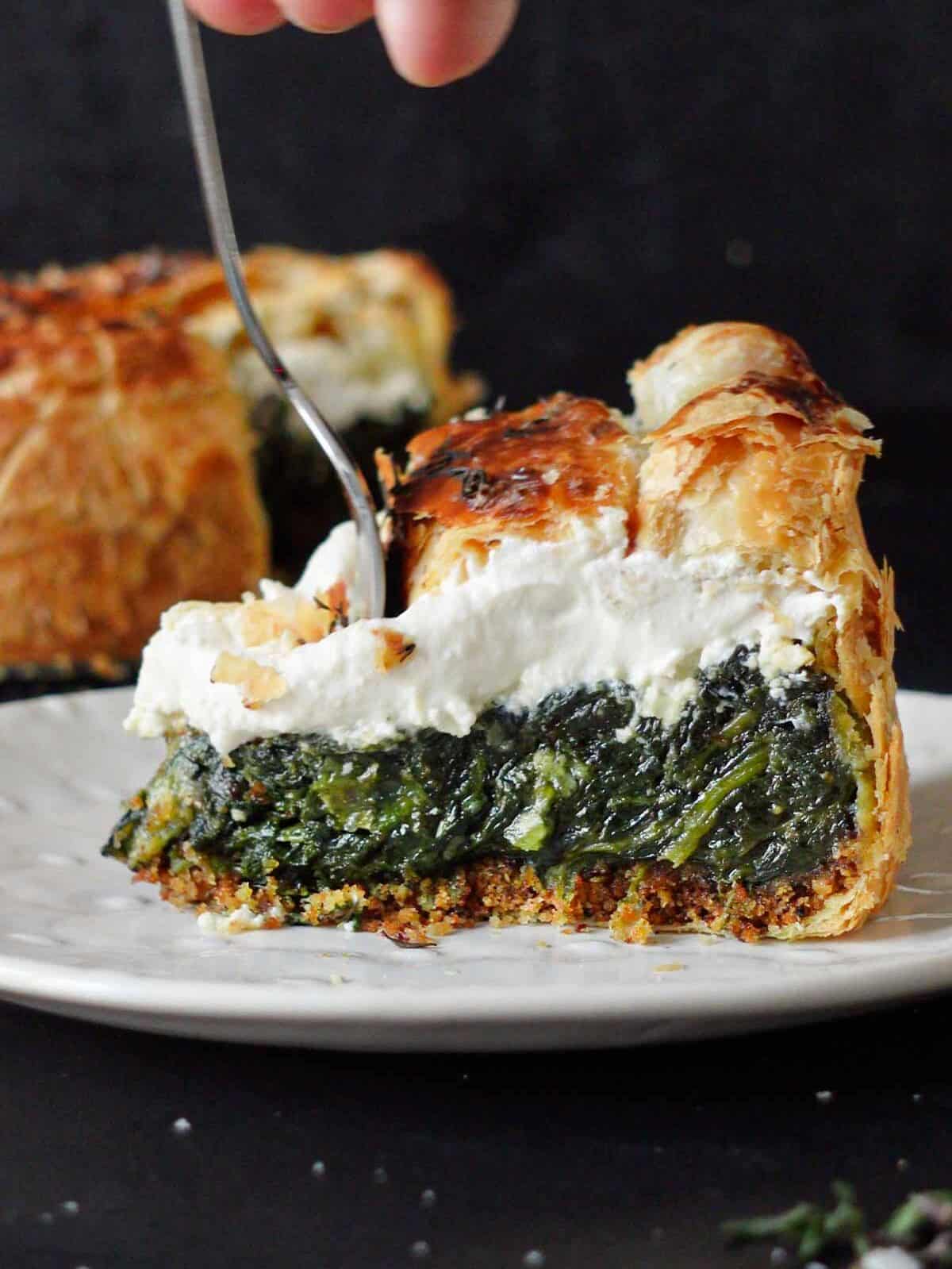 Ingredients
Let's start with the ingredients you need for this spinach pie. To make this beauty you'll only need the following 10 ingredients:
frozen spinach
onion
garlic
breadcrumbs
plant-based cream
puff pastry
nutmeg
salt & pepper
Vegan Ricotta
Vegan ricotta cheese is becoming more and more available in most supermarkets. You can use soy-, cashew- or even almond-ricotta for this recipe.
If you can't find it anywhere, you can also make it yourself. In fact, making vegan ricotta is super easy. I'll leave the link with the recipe here.
Vegan Cream
We need the vegan cream to make the spinach filling creamier and to brush the spinach pie before it goes into the oven. If you can't find it anywhere, you can leave it out or use unsweetened soy milk instead.
You can use soy cream as well as oat or cashew cream. The most important thing is that it is unsweetened.
Vegan Butter
As for the vegan butter, you can use either margarine or a plant-based butter. Both work well.
Puff Pastry
The traditional version of Torta Pasqualina is made with shortcrust pastry. Personally, I've never liked shortcrust pastry too much, so I replaced it with puff pastry.
You can find puff pastry in any supermarket and it's practically always vegan because it's made with palm oil and no longer with butter.
Spinach
I prefer to use frozen spinach for this recipe for two reasons. First, because to get 800 grams (28 oz) of cooked spinach, we would have to buy a huge amount of fresh spinach.
Second, because frozen spinach is easy to squeeze after thawing (we need to squeeze it to prevent the pie to have too much moisture in it).
But if you want to use fresh spinach, go for it. Buy enough to get about 800 grams of cooked spinach and squeeze it well after it cools.
I am a spinach lover, so I like to use spinach to make this pie. However, it can also be substituted with the same amount of kale.
Step 1: Caramelizing the onions
We start making our spinach pie by caramelizing the onions.
To do this, we heat some of the vegan butter, add the finely chopped onions and sauté them until they are golden brown. The onions are ready when they are nice and soft and have a caramel-like color.
Step 2: Adding spinach & cream
Once the onions are caramelized, we add spinach and cream. Then we season with salt, pepper and nutmeg and mix it all together.
Next we remove the pan from the heat and let the spinach cool briefly. In the meantime, we can prepare the breadcrumbs as follows.
Step 3: Toasting breadcrumbs
To make the bottom of the pie crispy, we sprinkle it with a thin layer of breadcrumbs. In this way, the breadcrumbs absorb the excess liquid in the ricotta and especially in the spinach.
To make this layer extra tasty and delicious, we need to brown the breadcrumbs in butter for a few minutes. To do this, we first melt the vegan butter in a pan, then add the breadcrumbs and sauté until golden brown.
Then we take the pan off the heat and let it cool briefly.
Step 4: Making the layers
When both the spinach filling and the breadcrumbs are ready, we can finally make the pie.
We start by lining the bottom and sides of a 21 cm (8 inch) baking pan with parchment paper. Then we roll out a puff pastry and place it in the mold so that it covers the bottom and sides of it.
Then we add the breadcrumbs and spread them with a spoon to make an even layer.
Then we add the spinach filling and do the same.
Finally we top the pie with a final layer of ricotta.
Step 5: Topping and baking
When the layers are ready, we take the second puff pastry, roll it out and place it on the ricotta layer.
Then we cut off the excess dough, press the edges together and roll them to the inside of the pie.
Next we brush the pie with the cream, sprinkle it with a pinch of salt flakes and some fresh thyme and bake it for 35 minutes in the middle of the oven.
More recipes that you may like
If you try this recipe….
Have you made this vegan spinach pie? Then let me know! Leave a comment, rate the recipe and don't forget to tag a photo with #carlocao or #vegaliciously on Instagram or Tiktok.
Pinterest
Feel free to pin the image below and if you want to follow me there, feel free to click here 😌
📖 Recipe/Rezept