Diesen Beitrag gibt es auch auf:

Deutsch
This easy spicy ramen recipe is a real hit! It's ready within 20 minutes and all you need to make it are a few ingredients!
If you want to make a quick, easy and absolutely delicious dish, these ramen are definitely what you're looking for!
Before you jump into the kitchen to make this recipe, I suggest you read this blog post carefully. The recipe is simple but there are some steps and tricks to take into account.
Jump to:
Ingredients
For this recipe you need 5 main ingredients: Ramen, light soy sauce, dark soy sauce, vegan oyster sauce and hot chili sauce. In addition to these, you'll also need some fresh vegetables and a scrambled egg substitute. Here is all you need:
Ramen
light soy sauce
dark soy sauce
vegan oyster sauce
hot chili sauce
vegetables (depending on season)
scrambled egg substitute (optional)
sesame seeds (optional)
vegetable oil
Substitutes
You have read the ingredient list and you are short of an ingredient or you want to replace something? No problem! Now I'll explain what you can replace or omit.
Let's start with the vegetables. You can substitute or omit any of the vegetables in the recipe. I used red peppers, broccoli, champignons and carrots but feel free to use any seasonal vegetable you like.
The egg substitute is a nice to have but you can skip it as well if you don't have it.
Regarding the vegan oyster sauce: you can find it at any store that specializes in Asian cuisine. It's made with mushrooms, rather than oysters and it's super delish! Below you can see the one I use. It says on the bottle that the sauce is vegetarian, but if you read the ingredients, it is clearly vegan. If you can't find it, you can simply use 1 more tablespoon of light soy sauce.
Now lets move on to the soy sauce. We use two types in this recipe, light and dark. The light soy sauce is the one you find in all supermarkets, restaurants, etc. It is liquid and less pungent than the dark one.
Dark soy sauce has a thick consistency (almost like maple syrup) and a strong, delicious flavor. If you can't find it, you can use 2 tablespoons of light soy sauce instead. The result will be similar.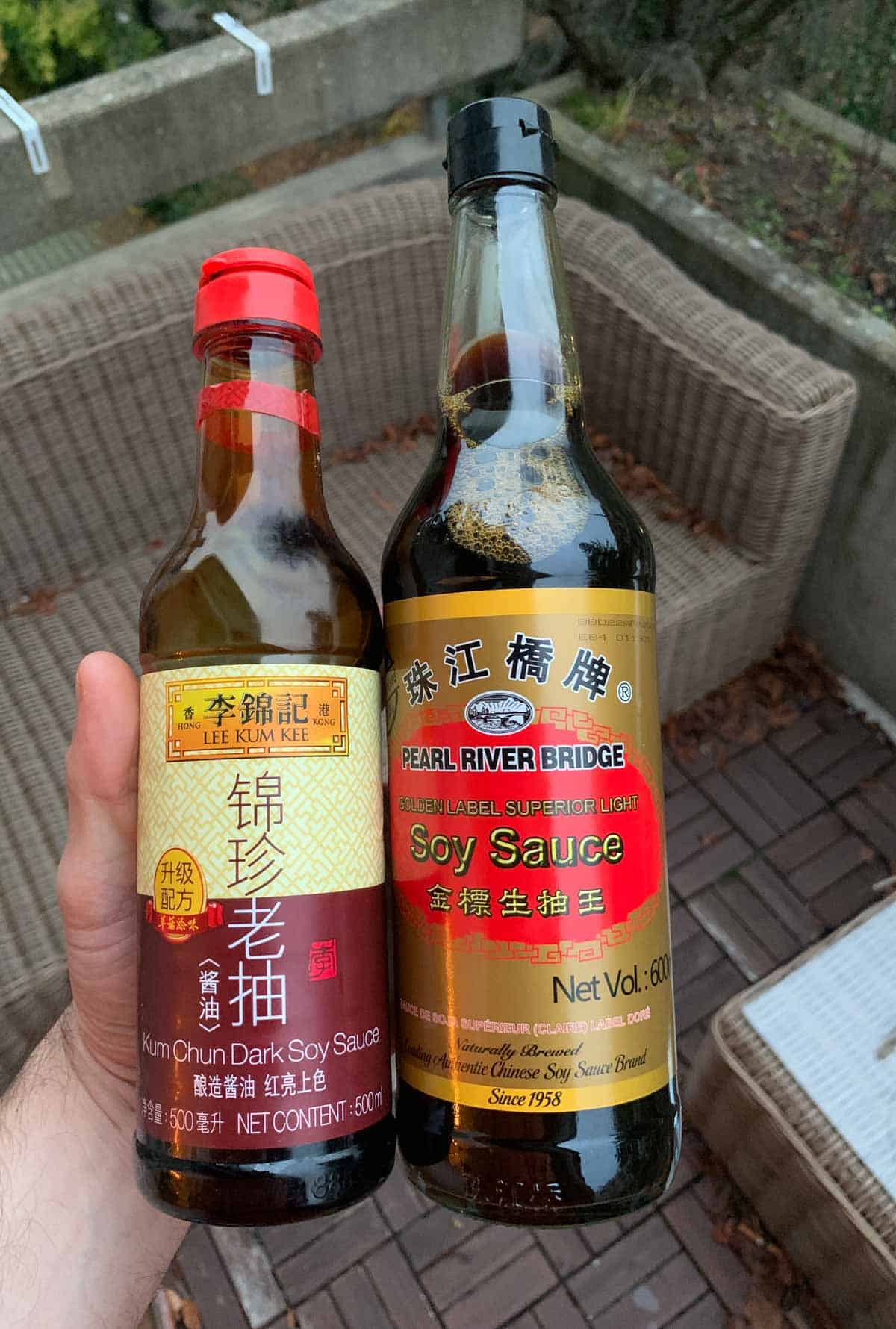 More Recipes You Might Like:
If you try this recipe...
If you try this recipe let me know! Leave a comment, rate it, and don't forget to tag a photo #carlocao or #vegaliciously on Instagram. Cheers, friends!
If you have Pinterest...
Feel free to pin the following picture and to follow me by clicking here 😌
📖 Recipe/Rezept