This post is also available in:

Deutsch
This vegan chocolate tart is absolutely delicious and so easy and quick to make! From start to finish you'll need only 20-30 minutes and only 7 ingredients!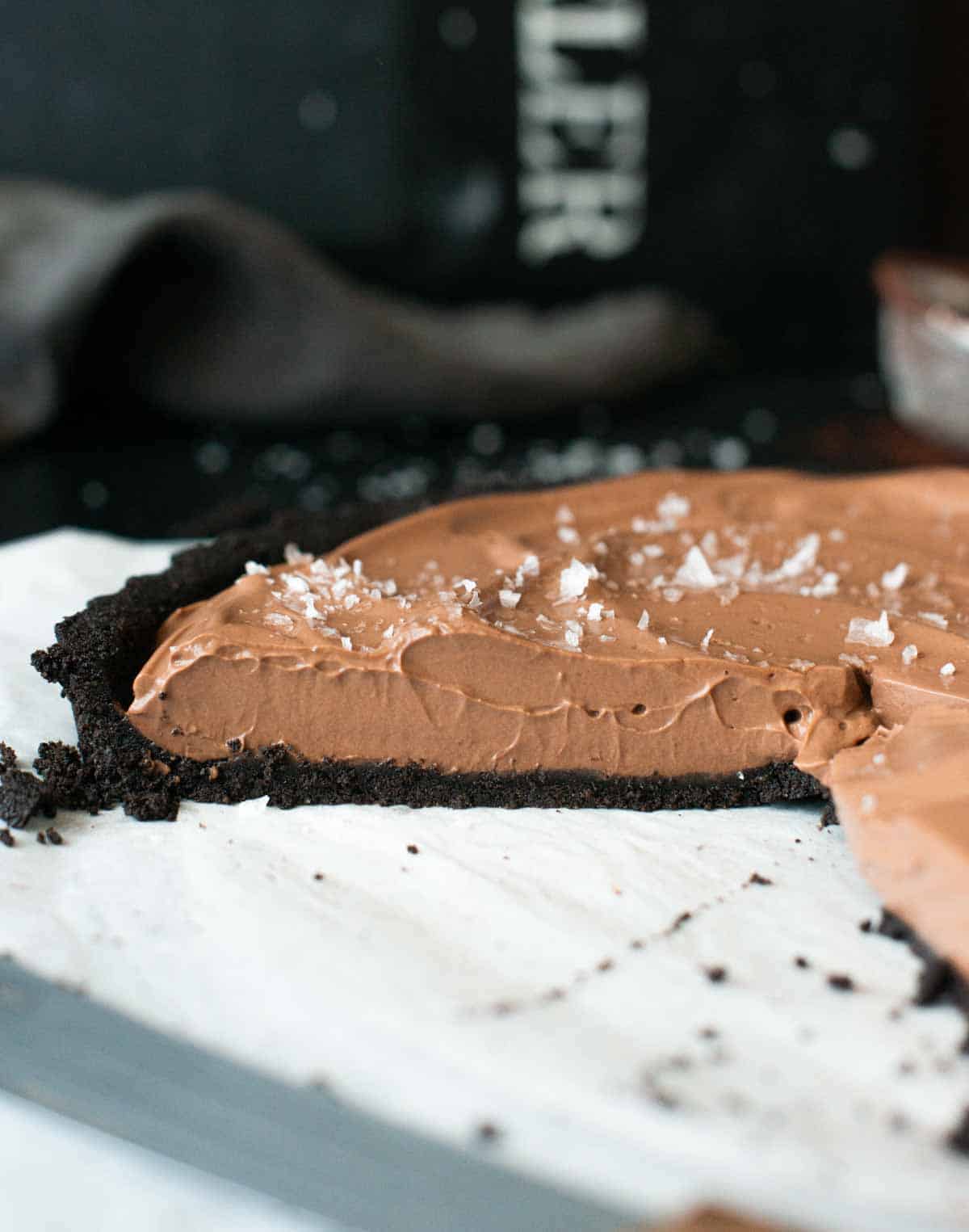 The chocolate filling is extra creamy, rich, chocolaty and perfectly sweet. The oreo crust adds a touch of crunch and makes the pie even more chocolatey and decadent. If you want to impress a chocolate lover this pie is what you're looking for, trust me.
Before you jump into the kitchen to make this cheesecake, I suggest you read this blog post carefully. The recipe is simple but there are some steps and tricks to take into account.
Jump to:
Ingredients
To make this cake you'll only need the following 7 ingredients that you'll easily find in any supermarket:
silken tofu
dark chocolate
sugar
salt
1 shot of espresso
oreo cookies (in Switzerland oreos are vegan, check the package to be sure yours are as well)
vegan butter or margarine
Where do I buy silken tofu?
The only ingredient that may raise questions is silken tofu.
First, let's try to understand what it is. Silken tofu is a tofu with a high water content. This makes it ideal for preparing creams as it can be blended perfectly.
In case your trusted supermarket does not have it, look for a store specializing in Asian cuisine, you will find it there without problems.
What can I use instead of silken tofu?
The main ingredient of the chocolate cream is silken tofu, replacing it would completely change the texture of it. For this reason, it's irreplaceable, sorry 🙁
How to Store
You can either store the vegan chocolate tart in the fridge or freezer (depending on how long you want to store it for).
Fridge: Place the pie in an airtight container or cover it with plastic wrap and keep in the fridge for up to for 3-4 days.
Freezer: Wrap the cake in cling film, either whole or by the slice, and place in an airtight container. This will prevent it from absorbing flavors from other food in the freezer. You can store the pie in the freezer for up to 1 month. Allow to thaw completely before serving.
More Delicious Desserts
Have You Tried This Recipe?
If you try this recipe let me know! You can leave a comment, rate the recipe, and don't forget to tag a photo #carlocao or #vegaliciously on Instagram or Tiktok!
Pinterest
If you have Pinterest, feel free to pin the following picture and to follow me by clicking here 😌
📖 Recipe/Rezept
Vegan Chocolate Tart (with Silken Tofu)
Ingredients
*200

g

oreo cookies

(7 oz)

80

g

vegan butter or margarine

(3 oz)

400

g

silken tofu

(14 oz)

1

shot of espresso

80

g

sugar

(3 oz)

1

pinch

of salt

200

g

dark chocolate

melted (7 oz)

½

tsp

salt flakes
Instructions
For the crust, add oreos to a food processor and process until thinly ground. Pour in the melted butter and process briefly until combined.

Line the bottom and sides of a 20 cm (8 inches) pie tin with parchment paper.

Press the cookie mixture into the base of the pie tin. Set aside in the fridge.

For the filling, add tofu, espresso, sugar and salt to a food-processor or blender and mix until combined.

Stir in the chocolate and blend until perfectly smooth.

Pour the cream over the crust and smooth it out with a spatula.

Set the pie in the fridge for at least 2 hours.

Top with few salt flakes before serving (optional). Enjoy!
Notes
* oreos are vegan in Switzerland but are not in other countries. Replace them with vegan digestive cookies, 1 tbsp of cacao powder and 1 tbsp of sugar.